Veronica Pahomova staff writer

Robotics is known to be an extracurricular activity that incorporates many subjects such as math, science and mechanics. However, in addition to building a mobile robot, this after school program also aids the city with multiple actions of community service.
MorTorq, the name of the robotics team, is divided into two categories: business and build. The members in the business section of the club have an outreach program that is also split into two groups: events and media. Both groups work together to create large events where they invite members of the community to learn about the robotics STEM program and have fun.
"Our ultimate vision is to inspire students and, most importantly, the younger generations to explore careers and pathways in the fields of STEM," business member Ashley Rahmani said.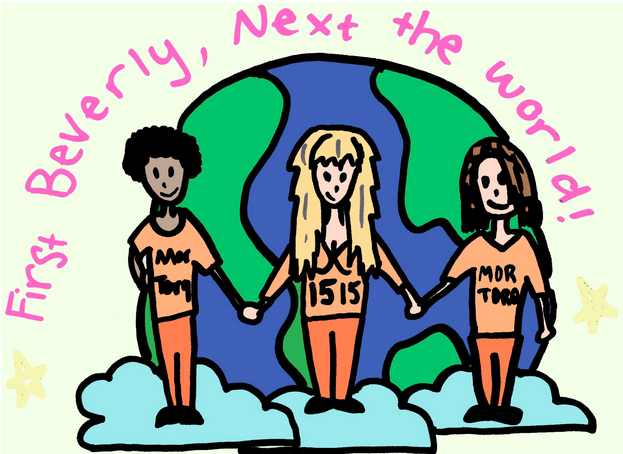 The media team uses puppet shows, radio shows, children's books, comic books and other outlets to spread STEM both locally and internationally.
"As a team, we do what we do to leave a strong legacy for future MorTorq members and to leave a strong community," Robotics business member Eli Aminpour said.
Some community service events they do include drives like the Green Hippo Electronic Waste Drive, Sock Drive, Thanksgiving Canned Food Drive and the Hygiene Drive. They also partake in the Ronald McDonald House Charity and participate in walks, such as ALS walk and the 2015 AIDs Walk that occurred only a few weeks ago.
"My favorite activity of our community outreach is Doc and Rob. It's a puppet show based on STEM concepts," Aminpour said. "We post three minutes videos about them on youtube and I love them. I find it funny and entertaining because we add our own goofy personalities into it."
The MorTorq team and the city leaders of Beverly Hills have a close relationship, which Robotics members believe shows their importance to the city as a whole.
"We try our best to keep a respectable, professional, and fun environment," Aminpour said. "We have a lot to learn, but we worked hard to get our team as strong as it is."
As Rahmani stated, the team is very proud of their impact on their community. The importance of spreading STEM awareness and advertising their program are on the same level as making the city a better place.
"This team has worked and will continue to work to its highest potential," Rahmani. "We believe we can make a huge difference in not only our society but also in our world."
Story continues below advertisement