Highlights participates in Gen-J Day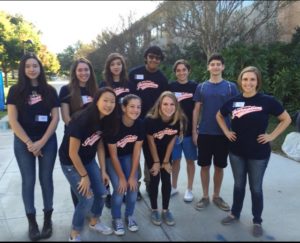 Juliette Deutsch, co-editor-in-chief
Student journalists from across Southern California gathered at California State University, Northridge on Saturday, Oct. 24, to participate in High School Insider and SCJEA Gen-J day. Students and advisers listened to keynotes and presentations regarding all things journalism.
In addition to the workshops offered, three LA Times journalists Javier Panzar, Sonali Kohli and Ebony Bailey hosted a panel for students to ask questions.
Our very own adviser, Gaby Herbst presented How to Teach Multimedia at the event.
Highlights staff members competed in a variety of write-offs during the conference. Senior Nirav Desai placed third overall in the opinion writing category and sophomore Jamie Kim won honorable mention for news writing.
Staff writer Vivian Geilim recalls her experience at the conference.
"It was an outside learning experience and a great experience to bond and get closer to your peers. It was great to learn from another person besides our editors and adviser," Geilim said.
Geilim was able to take what she learns in the classroom and apply it to this outside experience to learn what it is like to be a true journalist.
"Being timed in the write-off definitely motivated me and gave me a sense of how it is in the real world of journalism," Geilim said.
To add, staff writer Kim feels that she was inspired the most from the LA Times journalists.
"It was really inspiring to hear them talk about their careers and how far they have come. I learned that if you work hard and run after internships, opportunities will come for you as it did for those young journalists," Kim said.