Eleanor Bogart-Stuart staff writer
Keith Stone staff writer
When you think of art, you think of Picasso, sculptures, or maybe even your favorite cartoon. But for sisters Alexandra and Victoria Lamas, a senior and junior, respectively, when they think of art, they connect it to psychology.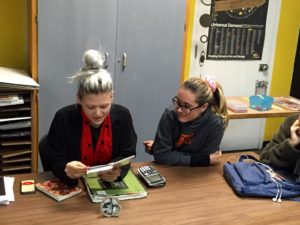 This is the basis for their club Draw Your Thoughts, in which they combine elements of psychology with elements of art to create a unique forum of expression for the student body.
"I started it because [of] me and my sister Alexandra Lamas. I was very into art and she's very into psychology. Art therapy is a mixture of the two, so we thought it would be really fun to do together," Victoria said.
Club meetings usually consist of giving members a drawing prompt and, after an allotted amount of time to draw, having group discussions about what the illustrations mean to the artist. At a recent meeting, members were asked to draw their role models and then had a group conversation talking about why they looked up to them.
"I liked it because it's hard to open up to people you barely know and this is an opportunity to do just that," junior and club member Emma Maisterra said. "It's all about transferring emotions and feelings onto paper and using art as a form of expression. It creates a real community at school.
A main factor of the club is its accepting atmosphere. Many people who are in search of this kind of group join just for this reason.
"I think it's cool that all these people are coming and supporting what I believe in. It's a really nice feeling when you feel like people believe in you," Lamas said.
Come show your artistic side every Wednesday at lunch in Room 251.

Story continues below advertisement