Sprinkles Ice Cream attracts massive lines
Parmis Sahrapima, Web Co-Editor-in-Chief
Sprinkles Cupcakes isn't the only place in town that has a line extending outside its doors; the Sprinkles branch has introduced its new member, Sprinkles Ice Cream, which has also attracted huge crowds to its doors. Sprinkles Ice Cream is located on 9631 South Santa Monica Boulevard and has seen a crowded and successful opening.
Even though the wait is around 40 to 45 minutes, the workers at Sprinkles Ice Cream do a great job at not rushing the whole ice cream picking process and ensuring full satisfaction. They will take their time with each customer but will only allow them to try two flavors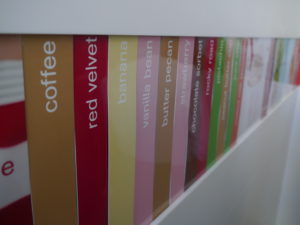 each.
Waiting in line is strenuous, especially when you might be in front of impatient people. Other than that, the waiting is not that big of a deal if you have a lot of free time on your hands and you are willing to accept that the wait will be long.
Sprinkles Ice Cream offers a variety of about 20 different ice cream flavors, but they only put out 12 at a time. To see all of the different flavors and cookies offered, visit here. What makes Sprinkles unique from other ice cream stores is that  customers can not only order ice cream in scoops or on a cone, but they can get their ice cream on a variety of six different types of large cookies as well. In addition, Sprinkles Ice cream offers their red velvet cones, in tribute to its famous red velvet cupcake.
Sprinkles Ice Cream has also done a great job at mixing the popularity of Sprinkles Cupcakes into their ice cream by making their red velvet ice cream a mixture of shredded red velvet cupcake and vanilla. They truly deserve props for carrying on the Sprinkles' name.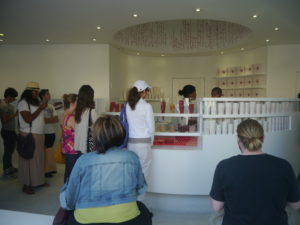 Even though the ice cream is satisfactory, many customers agreed that the ice cream is definitely not worth the wait unless one is already a fan of Sprinkles Cupcakes. Sprinkles Ice Cream seems to be overrated, and the wait seems to be too intense for ice cream that doesn't really have a unique quality and taste to it, other than to combine cupcakes and ice cream together.