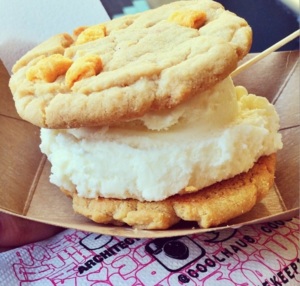 Juliette Deutsch co-editor-in-chief
The Spot: Fala Bar
What to Order: Spicy Falafel
The Price: $8.00
7751 Melrose Ave, Los Angeles
This vegan falafel spot along Melrose offers delectable baked chickpea balls that won't leave you feeling guilty after you take them down. The falafel comes in a variety of flavors, including a sweet potato and my personal favorite: a spicy version with red peppers and jalapenos.
The Spot: Guisados
What to Order: Mole Poblano
The Price: $2.75 per taco
8935 Santa Monica Blvd, West Hollywood
Whether you're in DTLA or West Hollywood, Guisados is a must-try that will fill your Mexican food cravings. The Mole Poblano Taco is a standout: it comes with shredded chicken in a poblano style mole, queso fresco, red onion and dried chile to top it off.
The Spot: Coolhaus
What to Order: Thai Tea Ice Cream Sandwich
The Price $5.00
8588 Washington Blvd, Culver City
From fried chicken and waffles to avocado flavored ice cream, the New York transplant Coolhaus dreams up the most creative flavors around. In addition to its Culver City store, you can find the food truck roaming around the city to get your fix on the go. The Thai tea sandwich has all of the flavors of a traditional Thai iced tea, but also the creaminess of a traditional ice cream sandwich.
The Spot: Tatsu
What to Order: Wagyu Ramen Burger
The Price: $7.00
7111 Melrose Ave, Los Angeles
This is not a drill. I repeat, this is not a drill. Tatsu's $7 ramen burger should be put on your L.A. culinary bucket list, STAT. The restaurant's ramen bowls, with fresh, house-made broth and noodles aren't too shabby, either.


The Spot: Mainland Poke Shop
What to Order: Build Your Own Poke Bowl (BYOB)
The Price: $8-14.00
8318 W 3rd St, Los Angeles
Unlike traditional saturated poke, theseafood buffs at Mainland choose to spotlight the freshness of their proteins. Choose from a fresh selection of manicured ahi, albacore, salmon and octopus, served on a bed of rice or salad. As for toppings, amp up your poke bowl with fresh garnishes such as edamame, ginger and avocado. Top off the bowl with house made shoyu sauce, Wasabi aioli or my personal favorite Siracha aioli.
The Spot: Kogi BBQ
What to Order: Short-Rib tacos
The Price: $2.29 each
Kogi BBQ may very well be the OG food truck in L.A. When in doubt, go with Kogi's signature item: the short-rib taco. Made with two homemade corn tortillas, double-caramelized Korean BBQ, salsa, cilantro relish and a chili-soy vinaigrette, it's truly delicious.
The Spot: Kaya Street Kitchen
What to Order: Satay (Chicken, Pork or Shrimp)
The Price: $10.00
109 N Fairfax Ave, Los Angeles
This Southeast Asian bowlery on Fairfax follows a fast-casual model much like ShopHouse, but with a bit more ambitiousness and creativity when it comes to selecting the ingredients. Consider the grilled chicken satay over brown rice, then load it up with toppings such as sambal corn or garlic kale. Finish it off with a flavorful sauce like a soy sweet glaze.
The Spot: Prime Pizza
What to Order: Sicilian Pizza
The Price: $2.75
446 N Fairfax Ave, Los Angeles,
One of my favorite, New York-style slice joints in Los Angeles, Prime Pizza has affordable slices with a slew of different toppings. The sicilian pizza, topped with fresh mozzarella, ricotta, pesto and crushed tomatoes stands out among the many options.  Don't miss out on the garlic knots either.
Story continues below advertisement