Varsity wrestling competes in Bay League Finals, prepares for CIF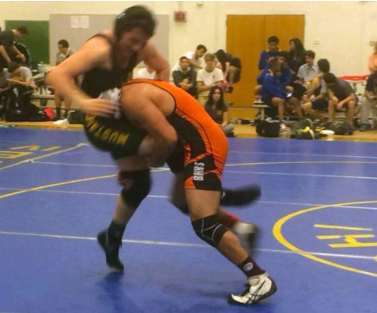 Jason Harward, graphics editor
The varsity wrestling team competed in their final meet on Thursday, Feb. 11 in Bay League Finals at Santa Monica High School, sending six wrestlers into CIF.
Both captains, seniors Elijah Klapper and Mohamad-Reza Sadeghi, advanced to CIF competition for their weight class.
Klapper, who took first place in the 195 pound weight division, was happy with his team's performance and is excited for CIF.
"We had a lot of younger guys win when they weren't expected to win, and we had a lot of upperclassmen come through when we needed them most," Klapper said. "Going forward, our freshman and sophomores are likely to win a lot of matches at CIF, and our upperclassmen have a good shot at placing."
Sadeghi placed second in the 126 pound division, and he was very happy with his team's overall successes in the Bay League Finals.
"Going into League Finals, our goal was to, individually, qualify for CIF which all of our varsity wrestlers did by the end of the day. We're invigorated to train hard at CIF practices so we can accomplish our individual goals at CIF," Sadeghi said.
The first round of CIF competition is scheduled for Friday, Feb. 19 and Saturday, Feb. 20.