Talent and creativity show off at second annual Coffeehouse
Jason Harward, graphics editor
Keith Stone, staff writer
The Vocal Music Department's second annual Coffeehouse showed off some of Beverly's talented singers and songwriters, while also managing to differentiate itself from a "normal" production.
The event, which took place on Thursday, Feb. 18, flipped the Salter Theatre and allowed the audience to relax and enjoy the music.
"I loved it. I thought everyone matched, if not exceeded, last year's talent," senior Tristan McIntyre, who performed with junior Eden Messick, said.
McIntyre, who enjoyed the entire performance, was especially satisfied with his own act, an original song called "Street Lights."
"Everyone picked really great songs. I sang an original song with Eden Messick, and, personally, I think it went really well! We felt that it was a strong performance from both of us," McIntyre said.
One newcomer to the stage, junior Sam Schwartz, showed off his piano skills in a duet with fellow junior Tianai Xiong.
"It was my first time doing any musical performance at the high school, and I had decided to do it with my friend on a whim, so I really didn't know what to expect from the event," Schwartz said.
Though McIntyre thinks the music was incredible, he was unhappy with the turnout during the second showing.
"[The turnout] was fairly decent. A lot of people showed up for the first hour, but not really the second," McIntyre said. "So maybe next year we'll advertise the event a bit more because people really enjoyed it."
The laid back atmosphere was accentuated by the setting. The singers sang on the same level as the audience, toward a crowd strewn about on chairs and couches, which created an intimate environment.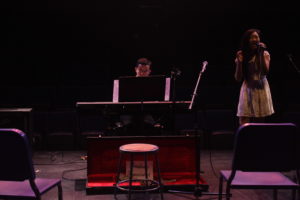 "I didn't know until I showed up that the audience would be sitting on the stage and in couches and at tables, as opposed to sitting in the traditional manner," Schwartz said. "I think the music pieces that everyone chose fit the environment and vibe of the evening, and I liked the jazzy and laid-back atmosphere."
McIntyre hopes the Vocal Music Department can plan more events to showcase even more of the talented singers and musicians in the student body.
"I think it'd be pretty great to do more throughout the year so there are more performance opportunities for students," McIntyre said.