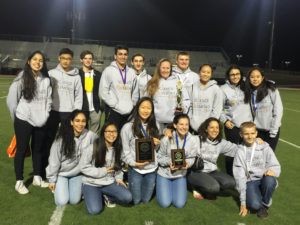 Guy Ginsberg co-editor-in-chief
The Science Olympiad Team won four medals at their first ever invitational competition at Polytechnic High School in Pasadena on Saturday, Jan. 30.
The team, which was split into various groups during competition, won first place in 'Experimental Design,' second place in 'Game On,' second place in 'Green Generation,' and third place in 'Chemistry Lab.'
"We did well, especially considering the fact that this is our first year as a team. We received four medals, which is great," 'Game On' silver medalist Rebecca Regwan said.
Each team member participated in up to three of the over 20 events at the competition. While some events were written tests, other events required the team build devices ahead of time to be tested on various capabilities. The team built a miniature electric vehicle, a bridge and a plane for the competition.
Sophomore Bella Cura enjoyed the social aspect of the Olympiad event.
"[The competition was] really fun, the other kids were all really nice, and since you could talk to your partner during the tests, it was always a really loud classroom," Cura said. "And when we didn't have events that we were in, we got to hang out with people from other schools and play cards, ping pong and basketball."
Being the first event of the year, many students felt that the competition was poorly managed by the event organizers.
"The events I competed in were not especially well-run, so the competitions varied from being frustrating to funny," 'Chemistry Lab' bronze medalist James Dohm said. "The written tests they gave us were pretty much copy and paste from stuff online."
However, Cura believes that the miscues at the competition were forgivable, saying that "since this competition was a practice competition, the tests were made by teachers from the 14 schools. Some of them didn't really follow the rules for the tests and graded improperly or made the tests wrong, but you can't blame them since the actual competition doesn't give them all the information that they need."
Regardless of the pitfalls of this competition, the team was excited for the next, a Regional competition on Feb 13.
"I [was] more excited because the tests [were going to be] written by college professors, so they should have [had] better questions and be more fair," Dohm said.
Overall, Regwan was proud of how her team performed, and was ready for the Regional competition.
"The competition was a lot of fun. We got to practice for the real competition in a couple of weeks. We also meet lots of high school students," Regwan said. "Lots of studying payed off for us."
With only seven competitors, the team placed fifth at the Regional competition on Feb. 13 and qualified for the State competition on April 2.

Story continues below advertisement