Boys lacrosse defeats Jordan in lopsided victory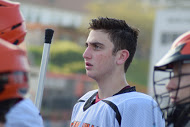 Max Yera staff writer
The boys varsity lacrosse team defeated the Jordan High Panthers 17-0 this past Wednesday, March 9. The win put the Normans' record at 2-1 for the preseason.
Though the Panthers are not a particularly strong team, the Normans entered the game with the mindset to play hard and win.
"We go into every game with the mindset to go out and win," attackman Jack Kaplan said. "We don't factor in the team's record."
Midfielder Nick Forys attributed the win to particularly strong defense.
"Our defense was like a brick wall," Forys said.
Though the 17 goal game was certainly an impressive showing by the Norman offense, the team recognizes that its offense will need to continue to improve moving forward, as they will face more experienced lacrosse programs.
"Going into our next game we as a team have to continue to work together and communicate so we can get a fluid ball movement on our offense which will hopefully lead to some goals," Forys said.
The Normans next game will be a home game against rival Culver City tomorrow at 6 p.m.