Eleanor Bogart-Stuart staff writer
Junior Lana Schwartz does not spend her weekends like the average teenager. She can be found taking trips into the Angeles National Forest, where she serves as a counselor for the Harold Robinson Foundation.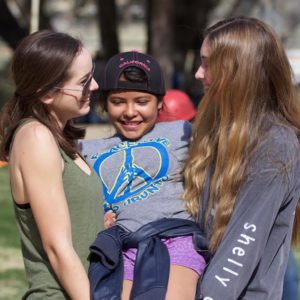 The Harold Robinson Foundation sends kids from underprivileged areas of Los Angeles to Canyon Creek to let them experience a three day session consisting of emotional enrichment activities.
"We take not only children, but community members, parents, teachers and former gang members up to camp to build community and unity," David Moss, the operations manager of the Canyon Creek, told Medium.com.
Schwartz got involved with the foundation after being a camper at Canyon Creek.
"I wanted to give underprivileged kids the same experience that I got from summer camp growing up," Schwartz said.
According to Schwartz, the kids who are brought to the program mostly originate from areas like Watts and South Central L.A., neighborhoods which are known for their poverty, rampant gang violence and lack of proper learning environments. Schwartz was shocked by just how different her life was from the campers'.
"I learn more from the kids than they do from me, honestly. It's very humbling to know just how good we have it growing up in Beverly Hills. Never will I fully understand the hardships of their lives. We live in a bubble here," Schwartz said.
According to Schwartz, being able to experience nature and having a place to safely and freely interact with others has the ability to truly impact a kid who has grown up in a tough neighborhood.
"My favorite part is having fun with the kids. If anything, just having some fun and laughs before going back home is great for them," Schwartz said.
Moss declared that the long term goal of the program would be to use these camping sessions to completely reform the home and living environments of the campers once they return home.. Although Moss acknowledges that the effects of the camp on the kids won't be felt for a while, Schwartz actually saw changes in behavior happening right before her very eyes.
"At the beginning, a group of boys bullied one of the girls. By the end of the retreat, one of the boys started to bully her again. But instead of all of his friends joining in, one kid came over, grabbed his friend's shoulder, and said, 'Yo man, respect.' All of the other kids nodded. It was great to see that we had an impact on their everyday interactions," Schwartz said.
The camp has not only made an impact on the kids, but on Schwartz as well.
"I plan to continue doing what I can for the foundation by raising money. This year, the foundation's goal is one million dollars," Schwartz said.

Story continues below advertisement