Lakers hire Luke Walton, search for new identity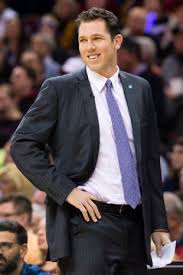 Isaiah Freedman staff writer
After firing coach Byron Scott, who went 38-126 in two underwhelming years on the sidelines, the Lakers have hired Golden State Warriors Assistant Coach Luke Walton. Walton, who played nine seasons as a Laker, had an outstanding 39-4 record filling in for Steve Kerr earlier this season.
Even though Walton had Steph Curry, Klay Thompson and Draymond Green on his team, he did show promise as his own man, making swift substitutions, drawing up solid plays and exhibiting poise from the sidelines at such a young age for a coach.
Speaking of age, Walton is so young that he could conceivably still be playing in the NBA. Still only 36-years-old, he has the rare ability to relate to players because of how close they are in age. Also, even though this may be entirely coincidence, Phil Jackson, the 11-time NBA champion as a coach, was a power forward with back issues. Walton, who played under Phil Jackson, was a power forward with back issues. Just saying.
With Kobe stepping away after 20 glorious years and Scott being fired, there was no clear face for this franchise before the Walton hire. No, it would not have been D'Angelo Russell. Let's see him go a full season without privately recording an intimate conversation with a teammate before we brand him as the face of the franchise.
Luke Walton has the ability to be the face of the Lakers while they wait for a star to come. Walton can vaporize the bad vibes around this team and, down the road, turn them into something special. While Scott's old-school style of coaching rubbed some players the wrong way; Walton shows much more promise as a coach. To turn that potential into production, Walton must be versatile: He needs to find a way to further develop the young core, as well as install a functioning offensive and defensive system, which is something Scott failed to do.
Even junior Grant Gaon, who is not even a Laker fan, likes the Walton hire.
"Even as a Clipper fan, I thought the (Walton) hire was smart for the Lakers," Gaon said.
Even if Walton grows into a superstar coach, the Lakers must nail their draft selection, which has a 55.8 percent chance of being a top-3 pick, thanks to their miserable record this year. If the basketball gods are in their favor, and the team finds a top-2 pick sitting in its lap after the lottery, major help could be on the way.
If Walton is going to be the Lakers' new Phil, then he is going to need his own Kobe. The upcoming 2016 NBA draft has a conscious top two players in forwards Ben Simmons of LSU and Brandon Ingram of Duke. Each player is considered to be a potential franchise savior, and they even play a major position of need for the Lakers, a stud to sandwich between the young backcourt and Julius Randle.
Ever since Kobe shredded his achilles, the Lakers had been clinging to his indestructible image as the reflection of their franchise, even though behind the curtains they were a disaster. Now armed with a sharp young coach in Walton, and a potential top 3 pick on its way, a return to the Golden Age could be right around the corner.