Eleanor Bogart-Stuart staff writer
The annual Madrigals spring concert will be held on Wednesday, May 11 at the All Saints Episcopal Church at 7:00 p.m.
The show, although not following a set theme, features a "color medley" at the end.
"It started off as a medley of songs that just referenced different colors. What it ended up being was the idea that you can be your own color. You are who you are," Choir Director Stacey Kikkawa said.
The medley consists of songs like "The Song of Purple Summer" from the musical "Spring Awakening." "Spring Awakening" was recently showcased at the Wallis Annenberg as a production of Deaf West theater, a company that puts on plays through the medium of sign language as opposed to song. Kikkawa took hold of the opportunity to do something a little different than the usual.
"We asked Deaf West theater, who produced that, if we could use their sign language for ourselves. So we actually hired one of the actors from the revival. He came in and taught us the sign language to that entire song. It's a coming of age song," Kikkawa said.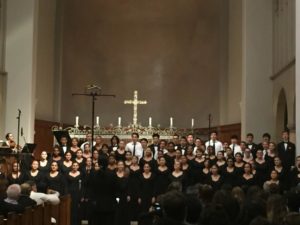 The medley also features songs like "Being Green" by Kermit the Frog, "Sunday" from "Sunday in the Park with George" and a variety of multicultural songs. It took the entire second semester to prep for the show.
"I think we are more than ready, and can't wait to showcase this to our audience," junior member Tianai Xiong said.
The concert not only marks the end of the year, but the end of a hugely successful season for Madrigals members. The choir was much more active in the competition circuit this year, traveling to several performances along the West Coast instead of the usual single Heritage Festival. The group even traveled to New York to perform at the prestigious Carnegie Hall.
"I believe that was the first time we've done something like this. And we rocked it because among over three hundred singers that were in our set of performance, our Madrigals had two soloists chosen by the conductor Anton Armstrong himself. That just made us very proud," Xiong said.
But the performance signifies more than just the end of the season. For many, it stands for the end of an era with senior Madrigals who are graduating.
"For me personally it is extremely hard. They are the people you see each day, they are the ones that went through thick and thin–from early Saturday caroling to late Wednesday rehearsal–and to goodbye to this part of your daily routine is hard," Xiong said. "Madrigals is a family, and that includes times of joy and times of tears. I don't think anyone is saying this goodbye with ease."
Come check out Madrigals this Wednesday for only $5 per person at the All Saints Episcopal Church.

Story continues below advertisement