Norman moves to pursue skiing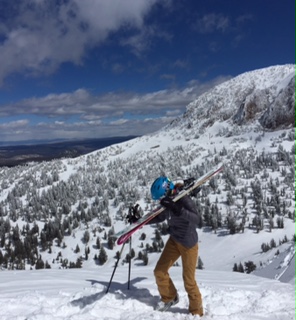 Evan Minniti staff writer
Even with the biting breeze in her hair, snow falling around her, goggles fogging from a panting breath and sweat freezing upon her face, sophomore Sloane Ramras feels at home skiing. In fact, Ramras loves it, she is moving to the town of Mammoth, California. in the Sierra Nevadas, and will attend Mammoth High School to pursue the sport.
"Undoubtedly, skiing is my favorite thing to do. I love doing it more than anything. I don't have to be competing to love it," Ramras said. "Ever since I was little, skiing has been an important part of my family's life."
Despite her obvious affection for the sport, Ramras has faced a number of hurdles that have prevented her from spending more time skiing.
"I got started on a ski team when I was in the fourth grade, as soon as I could. Before, I was on a pre-ski team. I kind of stopped skiing in middle school, just because it was hard to balance them. Then in high school, it was just too hard to do school sports and manage my ski life. I started racing individually and just recently decided to rejoin a ski team full time," Ramras said.
Skiing can be a bit more complicated than what meets the untrained eye. Ramras explained the many differences between a ski team and an individual skier. The way most ski races work is that most individual members of a ski team don't sign up, instead a coach signs them up together. However, NASTAR [National Standard Race], also holds races for individual skiers.
"I did one in Utah, but that is just you are racing as an individual. No one sponsors you. You just sponsor yourself. I mean, when you race with a ski team, they don't add your points; it is just you racing, but you train with the team and it brings you further. It is kind of like tennis, as in you can compete individually, but it is better to be on a team," Ramras said.
At the moment, Ramras plans on joining not one but two ski teams next year.
"This year I'm not [a member of a team]. Next year I will be on the Mammoth Mountain ski team, and also possibly on the high school team. The high schools will play other high schools. The Mammoth High School team will play a school from, like, Tahoe. The mountain team will compete against the other mountain teams," Ramras explained.
Ramras admits that only after spending about year in Mammoth playing for each team that she will know if she wants to pursue skiing professionally.
"I don't know if it is [permanent], but we've sold the house [in Beverly Hills,] and I will for sure be attending Mammoth's high school next year. It's too far into the future to know [if I will live there permanently]," Ramras said. "…after this year I will see. I quit in the first place because of obvious commitment issues. I am excited to rejoin though. Honestly, this year is going to be a deciding factor [about pursuing it professionally], but either way I will be skiing," Ramras said.