New administration aims to inspire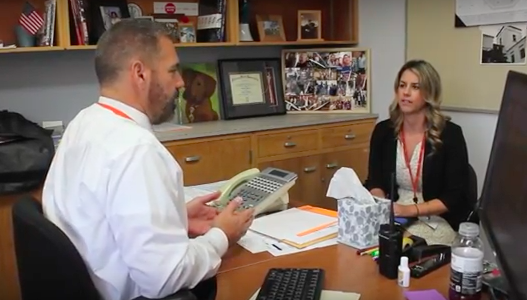 Evan Minniti staff writer
Over the last few years, high school students have experienced many changes. In addition to the ongoing construction, students have had to face a variety of changes in administrator with the addition of many counselors abruptly leaving over the past few years.
In the past 10 years alone, the high school has had three different principals and five different superintendents. Beverly's current principal, Dave Jackson, has only been principal since 2015 when he took over from Carter Paysinger. Paysinger himself replaced Joseph Guidetti. From 2007-2008, Kari McVeigh was the superintendent, but the next year saw Dr. Jerry C. Gross filling that role. Dick Douglas was the 2009-10 superintendent. Dr. Gary Woods then acted as superintendent from 2010-14, but the current one is Steve Kessler. Julia Pelikhova, who acted as a counselor in place of Bridget Reichart, left once Reichart was brought back after a year-long pregnancy leave.
"There was Ms. Pelikhova, who was here for a year, and she was here while Ms. Reichart was on pregnancy leave. Ms. Reichart came back and that meant that Ms. Pelikhova had to leave. So Ms. Reichart was here and started last year with us, and then Ms. Reichart's husband got a spectacular job offer to be the assistant head coach of the tennis team at Harvard University. They are from that area, so Ms. Reichart resigned and went back with her husband for his job. Then we advertised, and we got Ms. Carr to fill in for the rest of the year for Ms. Reichart," Jackson said.
The high school also has three new assistant principals. Luke Pavone is the current assistant principal for House A, replacing Renee Cobb. Kevin Brown is now the Athletic Director with Phil Wenker taking his place as House B's assistant principal. Mark Mead, the current assistant principal of House C, feels honored to take over for Michelle Dar, the previous assistant principal.
"I don't know a ton about [administrative changes] but Ms. Dar has been part of the Beverly Hills Unified School District as a student, as a member of the community and as an administrator for years, so her ability to lead Hawthorne made great sense," Mead said. "I feel super lucky to have inherited her House because Ms. Dar was great, and before her was Ms. Stacer. This House has a long history of having successful administrators who support the community. I feel good about that."





Here are some video interviews of Beverly's new administrators!

Phil Wenker is the new assistant principal of House B. He has been an assistant principal for 15 years and formerly worked with Principal Dave Jackson at Malibu High school. Being in charge of testing, athletics and teacher evaluations, Wenker hopes to improve Beverly.
http://https://youtu.be/6h63QmiVV3w

Greg Jackson has taken on the role of a new guidance counselor, teaming up with the others alongside him in House B. Starting off fresh, Jackson is excited to assist the student body with his prior knowledge.
http://https://youtu.be/JIn9zVqlpvI

Luke Pavone is the new assistant principal of House A. Coming from a variety of previous administrative positions, Pavone will begin to implement his annual goals to improve the high school.

http://https://youtu.be/nFujEVxIHtg

Mark Mead is the new assistant principle of House C. He spent ten years as an english teacher and eight of those years as a wrestling coach. For the past three years, Mead has been the director for ASB and has now taken up this position.

As the new Dean of College Admissions, Casey Rowley brings her love for helping students with college guidance and in the college application process to Beverly. She looks forward to becoming involved with the Beverly community in its multiple departments and extracurriculars.