Girls varsity tennis wins big against Crossroads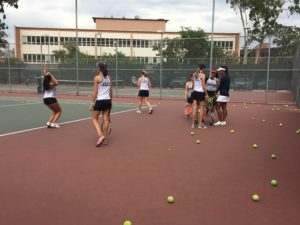 Ben Dahan staff writer
The varsity girls tennis team secured a lopsided win against Crossroads on Friday, Sept. 16, with an end score of 16-2. This game marks another victory for coach YuYu Myinttun and the team this season after losing their first game.
The run up to the game was hectic since many of the players were out sick or were busy with either school or other sports. Nevertheless, the team has been working hard to prepare.
"I think that even though we might be busy a lot of the time and we might not get to practice a lot of the time, we prepared enough and I think we're good," junior Rebecca Eberle said.
The beginning of the match was intimidating for the home team, sporting white shirts and shorts, when they first stepped up against their opponents, donning black uniforms.
"When you first see the team you are kind of nervous because you have no idea how they play. But after a while, you kind of get the hang of it and you find the opponent's weak spots, and you just play off of each other," Eberle said.
The reason for the team's success, Eberle believes, is being more prepared, caused by the daily regimen of stretches, runs and drills during practice. Team cohesion, especially among the doubles players, also played a large part in the victory.
"When you have two doubles players, and they don't really have a history, I think that's what makes the team bad, not necessarily the individuals themselves. But I think Beverly is a lot more prepared than Crossroads," Eberle said.
Girls tennis's next matchup is against Marlborough in a home game on Monday, Sept. 19, at 3:30 p.m.