Culinary Arts, KBEV succeed in SkillsUSA
Veronica Pahomova co-editor-in-chief

Competition winners are listed in the table below.
Culinary Arts and KBEV's competing members all won awards at the SkillsUSA Regional competition on Saturday, Feb. 4, allowing the teams to advance to the state competition.
The successful participants in both Culinary Arts and KBEV were not only proud of their accomplishments, but also viewed their experiences as positive ones.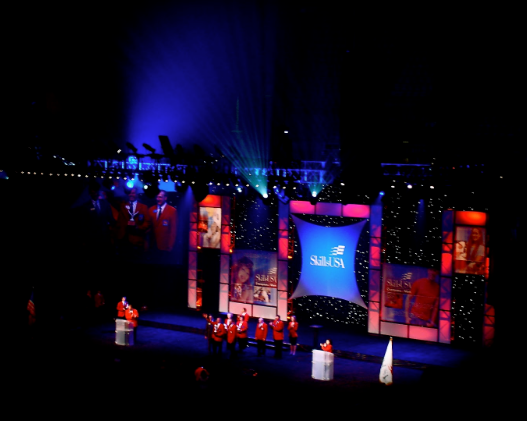 "I am extremely proud of my team. We really pulled it together despite the time crunch and difficulty of collaborating due to conflicting schedules," anchor and producer Noelle Trost said.  
Culinary Arts participant Ozzy Pendarvis describes the event as "filled with friendly, like-minded people determined to beat you at any cost."
With its motto being "preparing for leadership in the world of work," SkillsUSA states that they encourage "growth through participation in leadership and skill activities to enhance classroom learning" with three separate levels of skill and leadership competitions.
As stated on the SkillsUSA culinary arts section, "The contestants will be rated on their organization, knife skills, cooking techniques, creative presentation, sanitation food safety techniques, and above all, the quality and flavor of their prepared items."
According to School Video News, the Broadcast News competition is described as a "team of four students [who] must plan and produce a live three minute newscast with no breaks. One student will be the team's Technical Director (TD) position, one student will be the team's floor director/floor manager/stage manager position & the other two students will serve as the on camera talent news anchor positions. A specific area/room is provided by the contest's technical committee for newscast planning."
Members of the teams have stated that they are learning from their past experiences and will apply their knowledge to later competitions.
"I think what my team learned and what we will keep in mind going to state is the flexibility is key." Trost said.
Overall, the teams are looking forward to attend the state conference and competition in April 20-23, 2017.

| | |
| --- | --- |
| CATEGORY – SUBCATEGORY |      NAMES OF AWARD WINNERS |
| Broadcast News | Sophia Martin, Benjamin Cohen, Jordan Kramer, Garbielle Urman, Leila Vahabzedeh, Michael Ben-Iftah, Alexandre Callay, Bridgette Fussman, Noelle Trost, Eva Danesh, Shannon Benyamin and Sebastian Mikus |
| Culinary Arts – Savory | Lea Lefkovics, Eric Cherdack and Ethan Eilis |
| Culinary Arts – Baking | Julio Corleto, Donya Noubaharestan and Ozzy Pendarvis |