'DAMN.' showcases a vengeful, angry Kendrick Lamar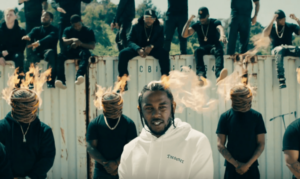 Jason Harward, design editor
Kendrick Lamar has done it again. After two incredible albums, Good Kid M.A.A.D. City and To Pimp a Butterfly, as well as an experimental but well done soundtrack that, very literally, did not have a title, Cornrow Kenny is back. Kendrick's past two stellar projects proved his lyrical genius, but this rhythmically intense and introspective album contains a unique sound that few musicians can match. All listeners can do is say, "DAMN."
Lamar is on another level in terms of popularity and vision compared to his contemporaries. New rap music, such as Drake's playlist "More Life", is, in a word, dispensable. Contemporary rap is easy to listen to but does not truly affect the listener. "More Life" came out only about a month ago, and many people are already over it. "DAMN." is not that. This album captures the listener and shakes them all over different, capitalized concepts that philosophers have yet to master.
The springboard of the anger and suffering present throughout this album comes from a Fox News segment on Lamar's performance of "Alright" at the 2015 BET Awards. The conservative news channel heavily criticized the performance, in which Lamar stands on a vandalized cop car and raps "And we hate po po/ Wanna kill us dead in the street fo sho." Yet panelist Geraldo Rivera took it a step further, saying "Hip hop has done more damage to young African Americans than racism in recent years." To which Lamar simply replied, "Hip hop is not the problem. Our reality is the problem."
This anger, was directed toward society and, more specifically, those who empower racism, comes in waves throughout DAMN. "DNA." is an absolute banger, where Lamar proudly proclaims who he is, from loyal to hard-working to successful. He also seems to hint at who his music is truly for, and, sorry Fox News, you are not included. Another meaningful track is "ELEMENT." in which Lamar opens saying, "I don't do it for the 'Gram/ I do it for Compton." This loud, enthusiastic line is another reminder of who Lamar is rapping for, and who he's rapping against.
Lamar's album is anything but one dimensional. He hums about love with "LOYALTY. (FEAT. RIHANNA)", "LUST." and "LOVE. (FEAT. ZACARI)," which is a heavy candidate for the album's best song. The heavy trap beat and crisp vocals capture how Lamar's relationships have changed due to his continuously thriving fame.
The album has many tracks that rival K Dot's old classics, including the only early release from the project, "HUMBLE." This track features Kenny scrolling through pop culture and voicing his anger about the lack of humility he sees, combined with a busy beat and a sense that he is above it all, which he really might be. Another instant classic is "XXX (FEAT. U2)." Yes, U2. However, this track is less focused on showing off crisp vocals from U2; it is instead a whirlwind of Lamar highlighting the X-rated details of American society, including digs at Donald Trump and warnings about the potential of the Black Power movement. The final instant classic on this album is "GOD." The most uplifting track on the project, "GOD." is K Dot proclaiming "This what God feel like!" and noting how his life has become so great because of God watching over him.
With a soulful combination of old school rap and contemporary beats, the album is a listening must. Kung Fu Kenny's woven lyrics and impactful poetry demonstrates his sporadic fury at pop culture and mainstream society as a whole. In DAMN. Kendrick proves he can stay true to his music while still experimenting with new styles.