Swim places third in Ocean League finals, seniors bid farewell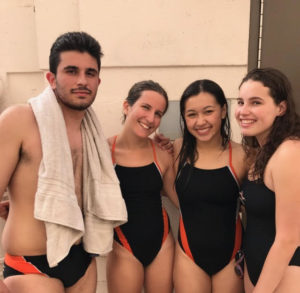 Jason Harward design editor
The varsity swim team placed third overall in Ocean League finals on Friday, May 5, with only one swimmer, senior Greg Ayzenberg, moving to the next round. The team's 494 total points fell short of Santa Monica's 847 and El Segundo's 777.
Although Ayzenberg's 48.71 seconds in the 100-yard freestyle was the only time low enough to qualify, head coach Donald Graham was very proud of how much his team progressed over the course of the season.
"We had a wonderful team performance in the championships. We had over a dozen swimmers who dropped 10 seconds or more in their best events, which is really impressive," Graham said. "Almost everyone, if not everyone, swam their season best, and we had some great performances from people."
One swimmer with impressive time improvements was sophomore Eugene Chi, who made the CIF consideration time in the 100-yard backstroke. Although she did not end up qualifying, she made strides on a relatively new stroke for her.
"I feel proud in the sense that I got to drop so much time and improve so drastically in an event that I only started to practice halfway through season," Chi said.
Although the widespread improvement will be important in the future, the meet also had a nostalgic air, with all but one of the seniors swimming their final race. Senior co-captain Sara Okum was very thankful for all of the athletes and coaches who made her career possible.
"I've spent so much time in the Swim Gym and actually getting to the last meet made me very nostalgic," Okum said. "I love swimming, but it's more the people and coaches I will miss seeing and spending so much time with every day."
Senior co-captain Josh Fouladian was short and sweet, yet also expressed how much the team has meant to him.
"It's been my utmost pleasure to be a part of and run this team," Fouladian said.
Ayzenberg will swim in the next round of CIF on May 13 at Riverside High School.