Mead brings experience, enthusiasm to new administration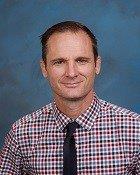 Jason Harward co-editor-in-chief
Mark Mead is the boss. But, instead of changing his style for his new position, Mead continues to preach collaboration and positivity, important traits during construction and administrative turnover.
Mead's background as an English teacher, wrestling coach, ASB and Link Crew advisor and assistant principal gives him a unique perspective on how to work with his staff.
"Obviously, in a lot of ways, I am their boss, but it's also important to look at [being a boss] as being a collaborator," Mead said.
In academics, Mead is using his background as a teacher to make sure every student has a chance to succeed in the classroom and participate in the learning process.
"I want to work on setting clear objectives and giving enough feedback so that even if a kid is not at superior, at least he or she knows where he or she stands," Mead said.
Outside of academics, Mead's goals stem from his time as ASB advisor. While he does think school spirit could improve, he is more concerned with working around the challenges of construction to plan school events. And, according to senior activities commissioner Jonathan Tansey, Mead's passion will definitely help him reach his goals as principal.
"I have never met anyone with close to as much passion and energy as [Mr. Mead] has for our school. I can't think of anyone better suited or qualified for the job of principal," Tansey, who spent two years in ASB with Mead as the advisor, said.
Max Minniti, a former wrestler who graduated in 2015, was inspired by the fire that Mead brought every day as a wrestling coach. He credits Mead for helping to build his character and being a "role model in [his] life."
"I remember believing midway through many a brutal workout or wrestling match that I would fail or that I couldn't go on. Yet every time, there Mead was, on the side of the ring or at the head of the pack," Minniti said. "He would yell to us that the voice inside of us telling us we couldn't do it was a liar. He would tell us that we always could."
Yet even for someone with the background and personality of Mead, the job of principal comes with some shock, especially regarding financials.
"In this new position there are a lot more budgets and finances, so that's something I'm learning about," Mead said. "That's something that I don't think you can be ready for when you walk in; it's something you have to learn on the fly."
Mr. Mead will not be in his first year alone; he is joined by five administrators embarking on their first full year at Beverly.
"We're all learning at the same time. We're calibrating our vision and I think it's been a very rewarding experience so far," Mead said.
Helping Mead through many unforeseen circumstances is his mentor and former principal, as well as current assistant superintendent of construction, Dave Jackson. The two speak, according to Jackson, at least once every day, and Jackson believes Mead is well-suited to be principal.
"He knows the teachers, he knows the climate, he knows the customs, so I think he'll do very well here," Jackson said.
Through the challenges of angry parents, complicated construction and acclimating to his new position, Mead remains true to his philosophy of finding the bright side of every challenge.
"That's always been my mentality; you take the challenges that life gives you and you learn from them, and you get better as a result," Mead said.