Smartphone use in the classroom practical, powerful amidst budget cuts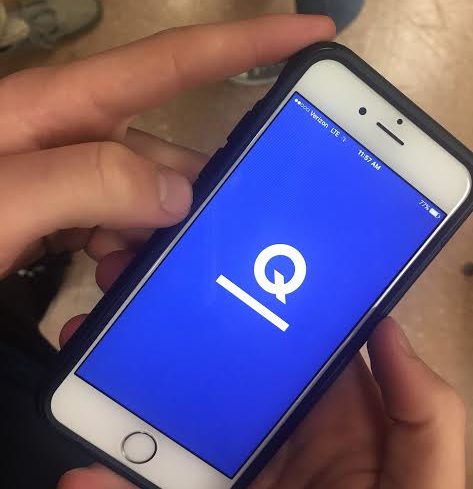 Jason Harward co-editor-in-chief
Eighty-eight percent of teens have or have access to smartphones or cellphones, according to data collected from the Pew Research Center from 2015. It's inevitable that students are bound to come to school with these devices. Yet, even with the many apps designed to be streamlined into a more collaborative classroom, school policy does not allow cellphones a place in the classroom. To truly move into a digital age, integrated cell phone use must be addressed and implemented so our school does not fall behind the changing times.
Yet, as of the start of the school year, cellphones have not even been acknowledged as a learning tool. District policy only mentions technology "provided by the district" as a means "in support of the district's educational mission." Without any mention of integrating smartphones into education by the district policy, administrators are powerless to create a plan that can help our education adapt to our ever-changing world.
Instead, district policy focuses on the negative side of cell phones, such as cyber-bullying and reminders of the permanence of any post. While these are legitimate concerns, an effective strategy from administrators and some training with teachers would erase most of these concerns.
It's not as if cell phone use is unprecedented in education. Applications made for cellphones, such as PollEverywhere, Remind101, Quizlet, GoogleDrive and VoiceThread are already helping classrooms collaborate and learn in new ways. They also  help students stay on track and test their knowledge more often, all of which, in my experience, creates a better classroom.
It would be completely impossible to make all of these changes right away, especially because many teachers feel more comfortable teaching in a traditional setting. However, to truly follow our district's philosophy that strives for students to "be prepared to thrive in a complex, changing world," our classrooms must change with the world. It does not take hundreds of thousands of dollars spent on iPads, SMART Boards or laptop carts. It only takes working with teachers to incorporate the powerful technology of smartphones, already available to almost all of our students, into the classroom.
"Bring your own device" programs (BYOD) are very practical for schools like ours that need major budget cuts, and many states are already piloting those initiatives to mostly positive outcomes. The National Education Association has numerous articles about procedures and apps that bring devices seamlessly into the classroom, which can be a good starting point for research into the practicality of BYOD education.
To better prepare staff, parents and especially students for the new digital age, as our district missions statement discusses, all hands must be on deck. A district-wide change can only start from the top, meaning the Board of Education must further define–and acknowledge–the benefits and availability of integrating smartphones into the classroom. From there, administration must train staff, slowly at first, to incorporate technology into their lessons. A well-executed plan can make the concerns the district currently has about smartphones turn into the optimism that these powerful devices should be inspiring.