Evan Minniti culture editor
Walking down the halls of the science building, one can see that room s305 has had a makeover. The door is covered in positive messages, encouraging students to feel safe and comfortable in the class.
These changes can be attributed to the new biology teacher John Castle. Moving from Montana, where he worked with disadvantaged groups, Castle hopes to create a more tolerant and open learning environment where students aren't afraid to make mistakes.
"The thing that I have found that works with students is that if they feel they have a safe learning environment, they can make mistakes without being laughed at," Castle said. "We learn by making mistakes, and if they don't feel safe enough to make mistakes, then that will impede the learning process. I want all my students to feel that they have a safe place to come to, that they can make mistakes and learn from making those mistakes."
Castle picked up this philosophy of acceptance from his previous time as an educator; Castle worked for a program in Vancouver, Washington for kids with behavioral issues.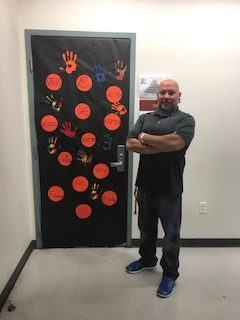 "I worked in a day-treatment program with students who had behavior problems. Beverly is very different! [Teaching in Washington] was hard, extremely challenging. But, to be honest, I really liked [the students in Washington] as well; they just needed a lot more support than students at Beverly," Castle said. "Some of those kids' problems came from genetics; maybe for some it was exposure to chemicals in vitro. A lot of them didn't have a really good home life; they weren't supported by their parents very well. Beverly is a night-and-day difference from that."
In addition to teaching in Washington, Castle moved to Montana to help adults with learning disabilities. While there, Castle learned to raise cattle too.
"I took three years off from teaching. I was in Montana at a ranch for adults with intellectual disabilities; I taught them life skills. I didn't really know much about raising cattle, so I learned on the job how to do that. By the time I left, I could build and fix barbed wire fences and build corrals for cattle. I could round up cows too. You name it, I could do it all. I could brand them, give them their inoculations," Castle said.
However, Castle would eventually return to his favorite career: education. Of all the different groups of people that he has taught, Castle admits that teenagers are his favorite.
"Working with the disabled was fun, working with elderly was fun too. My favorite group to work with are teenagers," Castle explained. "To me, it is kind of like having a bunch of puppies. They are funny and goofy. You can help shape them to be our future, and hopefully it is a bright future."

Story continues below advertisement