Breast Cancer Awareness Month affects relatives of surivors
Priscilla Hopper media manager
October is National Breast Cancer Awareness Month, which is dedicated to stressing the importance of early detection, and supporting the survivors, and grieving for the men and women who succumbed to the disease.
Breast cancer is the second most common type of cancer in women. In the United States, one in eight women born today will be diagnosed with breast cancer. If you have yet to encounter someone who has had breast cancer, you will at some point in your life.
Senior Thomas Goolsby's cousin challenged and won this tormenting battle.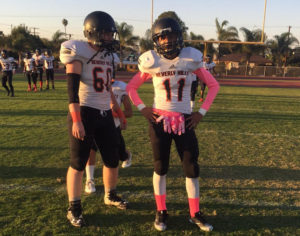 "It was really inspiring to see her fight cancer and then end up beating it," Goolsby said. "I wear the pink because I like it and it reminds me of my cousin's battle."
Goolsby shows his support of Breast Cancer Awareness Month while playing football by wearing pink gloves, socks and shirts.
"I don't think people need anymore awareness; I'd like to believe everyone by now is aware of breast cancer…It's important to me because I hope one day we will have a simple cure for breast cancer rather than a cure that also makes people sick in other ways," Goolsby said.
Although never directly affected by breast cancer, junior Julia Yaris experienced a "cancer scare" in her family.
"Early detection played a huge role in my situation. My mother was extremely high risk for cancer. As a doctor, you know just how scary that serious of a disease can be," Yaris said. "I originally was unaware of the actual cause of the surgery she said she was going to go in for, but she was extremely strong and very fierce, and completely recovered."
When varsity soccer member junior Dani Elitzur was 6 years old, her mother lost her life to breast cancer.
"I was really young when I first found out so I don't think I fully understood what it meant exactly, but I was able to understand it more when it got worse and I was aware of that fact that she probably wasn't going to live," Elitzur explained. "But there's really no way to describe how it feels for a girl to be told that her mom is going through such a terrible, unfair, thing and even more so that she isn't going to make it."
Breast cancer death rates are the second highest for women, after lung cancer.


"Breast cancer awareness month is important to me since it is obviously something that I am very personally connected to," Elitzur said. "I think a big part of it is to make people understand that this is a terrible thing that can really happen to anyone, and that everyone needs to really appreciate the people they have in their lives because you never know when something this awful and unfair can happen."
On Dec. 1, the girls varsity soccer team will be holding a charity game against Windward High School to raise money for breast cancer research and support breast cancer awareness.
"As an all girls team, we are aware that the likelihood of one of us getting cancer is high. Our goal is to just support each other and support a great cause. The game is a great way to get people to show support for our girls and the team, also to really take the time to educate themselves," Yaris said.
Eliztur's personal journey with breast cancer influenced her to get involved in fundraisers like the charity game.
"My mom's journey with breast cancer ultimately really put things into perspective for me that we all need to value our time that we have and we need to appreciate those we have in our life because we never know how much longer have," she said.
Communities can increase the public's awareness of cancer by supporting the change of risk behavior, teaching self-examination skills, and promoting proactivity for early cancer detection.
"I can confidently say it is one of the scariest situations to be put in," Yaris said. "Breast cancer awareness, or any cancer awareness month, is not about being aware that that cancer exists; it is about being cautious of the sneaky creature cancer can truly be."