In front of, behind camera, KBEV star spearheads shows
Natasha Dardashti staff writer
"Recording…Three, two, one, action!"
He says the magic words, and the cameras start to roll.
You may know his name from the credits of the "Norman Update," or see him wearing a suit accompanied by a camera at major events. Senior Noah Danesh has invested three years of his high school career to the student television network KBEV, where he has started two programs: "The Danesh Show" and the "Norman Update."
Danesh enrolled in his first KBEV class during sophomore year, mainly with the motivation to start his own show. Within the first week of his idea for the show, he was able to start recording the first episode of 'The Danesh Show.'
"I always wanted to do an interview show, because I love learning about people. Basically, I wanted to keep a general show so I'd be able to interview whoever I wanted. That's how 'The Danesh Show' came about," Danesh said.
'The Danesh Show' is an interview-based show that shines a light on different professionals, from the mayor of Beverly Hills to the CEO of an artificial intelligence company. It started a year ago, and has since become a prominent show both online and on KBEV's TV channel.

"I just love learning about all different aspects. Everybody knows something that I don't know. For example, when I was talking to Olympic athletes, [I wanted to know] what really makes them strive to become who they are. For the mayor, [I wanted to know] why she's so motivated to make changes in the city," Danesh said.
Currently, 'The Danesh Show' has 12 episodes. All of them are available on YouTube and on his website. The show peaked on YouTube with about 4,500 views on episode six, which features comedian George Gore II.
"Through the years, he's worked his way through the system and he really rose to prominence after his first year. He learned how the studio runs, what the methodology is, how to negotiate and create productions that were the top echelon of shows," media teacher Romeo Carey said.
The idea for the "Norman Update" came about this year when Danesh began to question ways to inform students about events around the school. With help from ASB coordinator Sarah Yadidian and administration, Danesh was able to bring the "Norman Update" to life.
"I, for a long time, have been thinking about how we can better inform the school. We do have the 'Norman News,' which is a long forum news show, but I thought that we should make something that's shorter, that would be shown in period one classes," Danesh said. "I think [the 'Norman Update'] achieved its goal that we set out to be, which was to inform everyone with what's going on."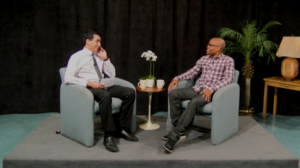 Besides organizing his own show, Danesh is known for creating and producing the Norman Update. He also produces the 'Norman News.' Producing, though, is not the extent of Danesh's involvement in KBEV's shows. No matter his role, Danesh's involvement in his KBEV projects proves to be irreplaceable.
"The guy can do everything. From producing to writing to being on camera to editing, he knows it all. He's very good at reading people to get the best performance out of everybody on and off camera," junior and co-producer Arian Tabibian said.
When considering all aspects of his KBEV career, Danesh considers himself to be grateful above all else.
"I'm lucky, I guess, to be able to have such a great opportunity here. I mean, we're sitting here in this studio where Ronald Reagan was once interviewed right now. Not many places have the opportunities we have here," Danesh said.