Make America great by keeping Dreamers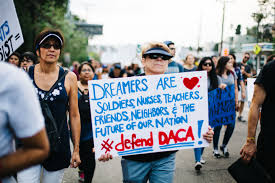 Catherine Gagulashvili staff writer
Dreamers are people. They arrived to the U.S. before they turned 16, they have studied here, they have worked here and they have thrived here since then. The idea of having them lose work permits and face deportation is one of the most saddening things to come out of Trump's pathetic year of presidency.
A Dreamer is defined as an undocumented individual who came to the U.S. before age 16 and has lived here continuously since 2007. Most Dreamers range from the ages of 15 to 36, making up what is arguably the most productive and promising age range. These are the people who have the most potential to contribute to our country. These are people of our generation, our country's future. Losing approximately 800,000 working citizens who contribute to society would undoubtedly be a major blow to our economy and productivity level.
The Deferred Action for Childhood Arrivals (DACA), which was created by Obama in 2012, will be suspended, no one new will be protected under the program and those who are protected could lose work permits and potentially face deportation on March 6, 2018. As the deadline for Congress to come to an agreement about what to do with the Dreamers approaches, Trump has suggested he may extend the deadline, but won't renew DACA.  
During his State of the Union speech on Jan. 30, Trump addressed the Dreamers and his plans to, despite his previous comments, endorse a path to citizenship for the 1.8 million undocumented Dreamers. Even though Trump's statement of endorsing a path to citizenship for Dreamers may sound optimistic, it isn't as inclusive as it may seem. If Congress fails to come to a conclusion by March 6, 2018, Dreamers could still be processed for deportation if they ever come in contact with an immigration officer.
Those protected by DACA, while not "legal" immigrants, have contributed to our country in a productive way. In his State of the Union speech, Trump stated that "For decades, open borders have allowed drugs and gangs to pour into our most vulnerable communities." While general illegal immigration may be a problem for our country, those protected under DACA are not the problem. They are not the gangs, they are not the murders, they are not the ones running drug cartels. Dreamers are people who have lived and worked here, and tried to build a productive life in America. Having these people fear for their livelihood and state of life is not okay. It is not okay to have people who are basically citizens fear they will have to leave their lives behind and return back to a country that they may not even remember.
The biggest reason to preserve DACA lies in the aspirational nature of the American Dream. As a country, we believe in giving people an opportunity to achieve success and prosperity through hard work, determination and perseverance. The Dreamers are here: they have been our neighbors, our friends, our classmates. And now, if we as a country deny them the opportunity to pursue their American Dream, it will mean that we, who will stay in this country, don't believe in the American Dream ourselves.
Find the feature student's thoughts about DACA here.