Sophia Goldberg, sports editor
The nine-member Highlights team placed first overall at the Los Angeles Journalism Teachers Association (LAJTA) Regional Write-Offs Competition on Feb. 24. In total, there were 51 students from eight schools. All nine competitors qualified to compete in the State Write-Offs on March 17.
Co-editor-in-chief Jamie Kim, who placed first in the news write-off, along with co-editor-in-chief Jason Harward who placed second in the news write-off, tried to convince more students to attend the competition in the hopes of coming in first place overall.
"We tried to get as many people on staff to come because we knew that the more people we had, the better chance we would have at winning a team trophy. I'm really happy for and proud of all of the writers who came," Kim said.
Additionally, Kim credits the daily influx of articles to success in competitions.
"Our process of writing and editing articles on a weekly basis is definitely key to shaping a strong group of journalists, and I'm glad we were able to show that off today," Kim said.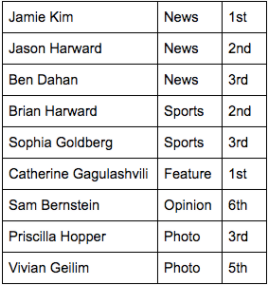 Multimedia manager Priscilla Hopper placed third in her photography event. She is confident in her photo portfolio and is excited to move on to state.
"I was confident in my photos to know I would place pretty well," Hopper said. "I placed second in this category last year and hoped to beat that, but those that won ahead of me had outstanding portfolios, so I'm happy with my placement."
Hopper was not surprised by the individual and team results, based on the effort and work ethic Kim commented on.
"It's really rewarding to see all of our hard work pay off. Being recognized is a huge deal for me. I think that those who do good work well or any work at all should be recognized," Hopper said. "While there were only nine people from our staff there, we each put in so much dedication to our work on Highlights and to the journalism program. Time is everyone's most valuable thing, and seeing all of the stress and excitement we see every day payoff is irreplaceable."

Story continues below advertisement