Olympic fever 'sweeps' campus
Sam Bernstein staff writer
Jude Binkley staff writer
The 2018 Winter Olympic Games in PyeongChang, South Korea, ended on Saturday night. While there were no Normans participating in the games, the campus was still excited to see the Olympics take place. The favorite team on campus was team U.S.A., with 88 percent of survey respondents saying that they were rooting for the squad.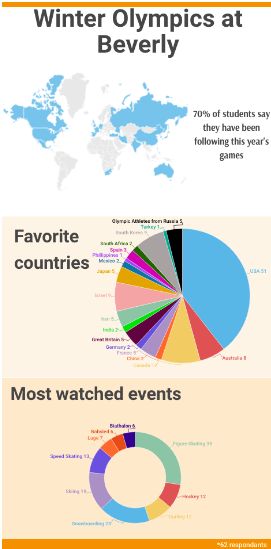 While the favorite event of most was figure skating (77 percent) students liked all sorts of other events, ranging from snowboarding (51 percent) to biathlon (12 percent). Junior Bridget Carter's favorite event was speed skating.
"I love short track speed skating. Short track is like track races, but on ice. I love watching short track because it's exciting and anything can happen," Carter said. "I like that the sport incorporates physical strength, aerodynamics and strategy. I also enjoy that all the athletes have good sportsmanship."
Carter gave her favorite parts of the games and what these Olympics meant to her.
"My favorite parts of the Olympics has been spending time watching it with my family, watching all the athletes have their Olympic moments and, in a way, sharing these moments with them," Carter said.
Administration has also been following the Olympics. House B assistant principal Drew Stewart has an affinity for the games.
"The Olympics are great," Stewart said. "It never ceases to amaze me that a 17-year-old can be the best in the world at anything."
The 17-year-olds that Stewart referred to are Redmond 'Red' Gerard and Chloe Kim, who both took home gold medals for the United States, but there was a medalist who was  younger. Fifteen year old Alina Zagitova, who is young enough to be a freshman at Beverly, won a gold medal in figure skating for the Olympic Athletes from Russia (OAR).
"It's really great to see these young people come out and try their best to win gold," Kurtz said. "Being the same age as some of them puts us together and it's kind of disappointing that you're not out there."
The next Olympic games will take place in Tokyo in the summer of 2020.