Lauren Hannani culture editor
Brian Harward staff writer
Rinesa Kabashi staff writer
Evan Minniti staff writer
While the district has been occupied with conversations about reconfiguration, reconstruction and contract negotiations, there is another issue that may be just as serious: staff morale.
Seventy percent of the 50 staff members who responded to a recent Highlights poll generally describe the morale among staff as "low," and 34 percent describe the working environment at the school as "negative."
While the reason for this concern with morale may vary from teacher to teacher, Telly Tse, president of the Beverly Hills Education Association (BHEA), the teachers' union, says that the district's choice of handling some school matters may be a factor.
"I think there is concern from a lot of staff members about what they see happening around the district in terms of decisions that are being made over the course of time," Tse said. "In that sense, I do feel that there is a sense of discouragement in that they feel that things could be better in terms of how the district and how the board handle themselves sometimes."
One of the factors may be the timing to start construction of the high school, which has been a struggle for some teachers and staff.
"I've withstood construction on my own house and my neighbors, and you just have to bunker down and you're not proud of it. Sometimes that seems to be a reflection of the mood on campus as well," English teacher Paul Batcheller said. "We've been under construction. You can call it the village, you can call it whatever you want, but it's chain link fences surrounding trailers on asphalt."
Other teachers believe the drop in morale is due to a lack of stability among the staff these last couple of years.
"I lost count of how many administrators I've reported to, how many assistant principals there have been…it's been at least 20 since I've worked here is my guess," physics teacher Kevin Bowers said. "So it would be nice to get a bit more stability since things will change every year or two because someone new is in control or in charge, and rightfully so. They want to do things the way they see it done, and it's hard sometimes because we'll say, 'Well, that's not how we did it last year' and 'That's how we're doing it now' is the answer, and that can be a little bit frustrating."
Since he first started teaching at the school 24 years ago, history teacher Peter Van Rossum has also noticed a large shift in the number of teachers and administrators who stay at the school for many years.
"When I first started here, if you got a job at Beverly, it was awesome, you stayed. But not so much anymore," Van Rossum said. "My first year was in 1994, so when I first started here, all of our administrators were all people who had taught here for 30 years, but they all started off as teachers, became assistant principals, counselors or even superintendents. So we had our own system and these people knew the community, they knew how things worked, and as a result, I think that allowed them to have an advantage."
With a few notable exceptions, such as Principal Mark Mead, Van Rossum points out that a majority of teachers do not become administrators over time, like he used to notice in the past.
"You don't really see teachers stick around that long and rise up through the ranks and run the school," Van Rossum said.
Batcheller has also seen a change in stability in administration over the years since he started working at the school 21 years ago.
"When I first started working here in Beverly Hills in 1997, there was a Mount Rushmore of administration," Batcheller said. "There was Ben Bushman, and there was his team of administrators, who had been administrators for a long time. They were truly a team, and they knew what their focus was. They knew how everything worked, and when you have something like that, stability at the top, you kinda know what to expect. I think that [stability] is missing today."
Mead agrees that constant turnover in administration is not easy.
"[Admin turnover] is hard. I think something that helps with morale is consistent expectations," Mead said. "Like imagine if you walk into a classroom every day and one day you're doing super hard work and then other day it's easy, and you never know what you're going to do. It's going to be fatiguing, and if staff feels that way about administration, just like a student in a class where expectations are unclear and inconsistent, it would be fatiguing."
In addition to turnover, another issue among the staff

is contract negotiations between the district and the unions, especially the BHEA. Since the impasse over salary formula, many teachers feel that a steady income in the near future is threatened.
"If the district actually goes through and unilaterally changes the terms of our employment, it would have a lasting, multi-year, negative effect throughout the district," chemistry teacher and BHEA grievance chair Chris Bushee said. "It would take a long time, probably years, to rebuild trust with the district, and when trust is lost, it's a very difficult thing to rebuild."
Bushee fears that any further conflict with the district over teacher salaries could lower morale among staff even more, causing teachers to use less of their free time to help students.
"Poor morale affects everything. Teachers give lots of free time to the district every year. Taking home a stack of papers they grade on their own time, staying after school with students, coming in before school for students, giving duty-free lunches to clubs, among other things," Bushee said. "I'm not saying all of that would go away instantly, but when there's low morale, employees don't feel like giving anything extra and their connections to the district become broken at that point. They just don't feel like they're part of a team."
Another factor that might be affecting this sense of cohesion within the faculty is a decrease in communication among staff members.
"I think technology has something to do with [morale]. We deal with everything through emails, and there's no need to interact with your department as much. Also, we [the Social Studies department] used to meet every day at lunch in this office–Social Studies had its own office–and we would all hang out and have our lunch together," Van Rossum said. "I think with computers, you're more into your own world, into your own thing. It's kind of the same thing I see with kids. It's like we're all together but no one talks and we're all on our devices."
Other teachers who have taught here for a while have also noticed this lack of enthusiasm for meeting with the rest of the staff.
"When I came a while ago, staff would just get together and do things more, do an occasionally once a month thing, and we don't do that anymore," Liz* said.  "We have periodic things, but they seem more forced than natural. It's not like, 'Hey let's go do this!' It's more, 'Okay, well, we have this event.'"
Superintendent Dr. Michael Bregy says that the district cares about the conditions that teachers work in.
"I'm very concerned about how people feel about their working environment," Bregy said. "There's so many issues going on, I always want to know more. Are these issues that are related to contract negotiations or that they can't get basic school supplies? To me, that's unacceptable, so I would want to know what it is and who is it so that I can help that person."
Although he acknowledges that there may be current issues with morale, Principal Mark Mead also feels like there hasn't been a significant drop in morale compared to past years.
"Morale is cyclical. I've seen it really low and I've seen it strong, and I have a hard time saying that this year is dramatically worse than other years I've seen, but I'm not in the trenches with them; there's a possibility it's worse," Mead said.
Other teachers look at morale as a frequent type of issue that does not have a specific solution.
"I don't know that it's drastically different than it's been in the past in terms of the fact that it's been lower than this and maybe it's been higher than this," Sally* said. "To tell you the truth, I just think it's an ongoing issue regardless of the school board, regardless of administration. It seems like it's almost like this district's culture issue is why morale can be low."  
There are a multitude of reasons why some teachers feel that staff morale is, to some degree, low. The sheer number of reasons, from district communication to salary negotiations, lack of outside meet-ups to administration turnover, means that one policy change can't solve this issue. However, while trying to interview teachers, one thing became apparent. Many teachers do not feel comfortable voicing their concerns publicly. Twenty-six people gave anonymous quotes through our poll, yet only one teacher left a name to be reached for further comment.
An asterisk next to a name means that the staff member interviewed wished to remain anonymous. Names were inserted to help distinguish between the anonymous staff members.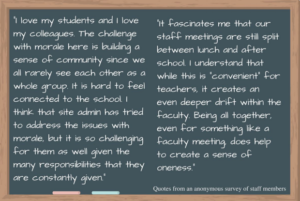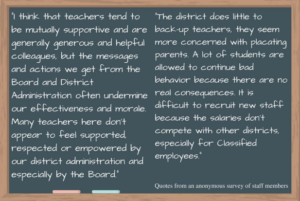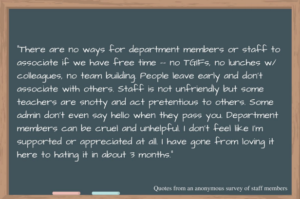 Story continues below advertisement