At impasse, teachers demand better benefits
Ben Dahan news editor
Sophia Goldberg sports editor
Jason Harward co-editor-in-chief
Jamie Kim co-editor-in-chief
With the Beverly Hills Education Association (BHEA), which is the teachers' union, and the district at an impasse, a longstanding issue has reemerged: teachers' health and welfare benefits.
During the April 24 Board of Education meeting, eight teachers spoke directly to board members, district officials and a receptive audience about their desire for an increase in benefits.
Compared to other school districts in L.A. County, BHUSD salaries are competitive, placing within the top 10 of the 47 districts that have reported their salaries. However, BHUSD teachers receive an annual $8,500 for health and welfare benefits, well below the average of $14,000 for districts in L.A. County, ranking it 42 out of 47 districts.
"What kind of message is BHUSD sending to its teachers, to its students, when we aren't even willing to provide average support for its employees?" Hawthorne STEM teacher Alexis Crane, who stated she paid over $10,000 out of pocket for her family's health plan, said.
According to Director of Communications Laura Skirde, the district recognizes the need to increase benefits, which was reflected in their offer to the BHEA in negotiations.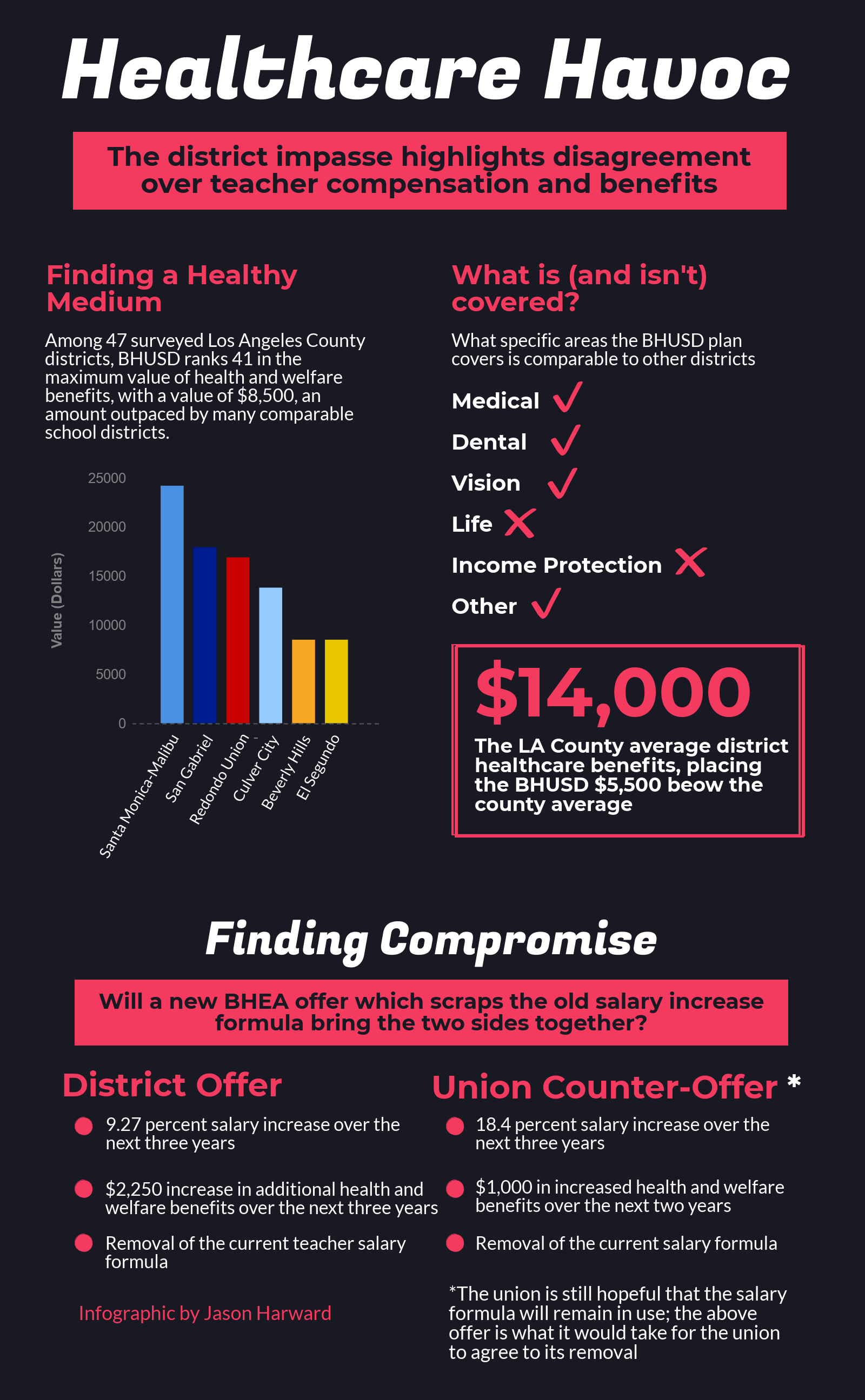 Prior to the declaration of an impasse, the district offered BHEA a $2,250 increase in health and welfare benefits over the next three years. In addition, a 9.27 percent increase in salary over the next three years was put on the table, intending to replace a contentious formula which automatically increases teacher's salaries per year.
The breakdown in talks came in large part due to the district's attempt to negotiate the removal of the salary formula, a procedure by which 55 percent of the district's increase in property tax revenue is distributed to raises in staff salaries. According to members of the board, the formula, which was passed in 2014, was only intended to last until 2017, but as contract negotiations were unsuccessful last year, the previous year's contract was extended, keeping the formula intact.
In response to the district's request for a deal that would eliminate the formula, the BHEA proposed an 18.4 percent increase over three years and an increase in benefits of $1,000 over two years.
"One major reason we want [the salary formula] to keep going is we feel like it's more sustainable, we feel like salaries are not something we want to negotiate year after year. It's very time consuming both for us and the district, so there's not a lot of time left to then negotiate other important areas of the contract," Telly Tse, president of BHEA, said. "The impasse is because the district declared it so; it's not something that we wanted. We would want them to come off that and to negotiate with us in good faith."
Members of the Board of Education have declined to comment about the impasse until the first impasse mediation session occurs on Friday, May 4. Executive Director for Human Resources Luke Pavone, the head of the district's negotiating team, did not respond in time for publication.
District officials maintain that the salary formula puts a burden on the district's finances, which has become an increasingly discussed topic as numerous reports from the district's budget office indicate that the district is currently on a fiscally unsustainable path.
"The salary formula obligates a majority of the District's property tax revenue growth for annual salary increases for teachers," the BHUSD website page dedicated to the impasse states. "This leaves very little remaining property tax revenue growth, which the district relies upon to cover increased costs in retirement benefits, inflation on materials and services, funding new projects and growing much needed reserves."
However, BHEA says that the salary formula is not to blame for the district's financial situation.
"The truth is only 36.5 percent of new property tax revenue is used to raise teacher salaries. And that 36.5 percent includes the cost of a statutory benefit increase and includes the district portion of retirement, which costs 3.5 percent of new tax revenue," Grievance Chair and chemistry teacher Christopher Bushee said in his public address at the April 24 board meeting.
At the same meeting, history teacher Dan Moroaica followed suit, saying, "We have been trying to work with you, but eventually, enough is enough. Please work with us, the teachers, in good faith. Do not blame our salaries on your peril, which again, is not threatening to destroy the district."
According to an analysis done by the Los Angeles County Education Office (LACOE), the regulatory agency keeping an eye on the financials of all school districts, about 56.66 percent of BHUSD's current expenses go toward paying teacher salaries and benefits. The minimum required by the agency is 55 percent, while the average for unified school districts is 60 percent.
With the two sides unable to reach an agreement on even the most basic facts, the second phase of impasse proceedings will be fact-finding by the neutral mediator.
In the meantime, teachers, facing uncertainty, will have to make do with what they have and hope for a favorable outcome in future negotiations.
"Will my salary drop even more if the salary formula is rescinded? Will my family be in a better position if I were somewhere else? These are the questions I'm being forced to ask myself, and it's breaking my heart," Crane said. "When you are negotiating our health care and the salary formula, please think of my family. Think of all of our families. Think of our students and what we can build when we work together."