Students anticipate finals week, 2018-19 school year
Paul Bensemoun cub writer
Eva Levin cub writer
Aasha Sendhil cub writer
[youtube https://www.youtube.com/watch?v=Ay1s_dFfvYw]
With the 2017-18 school year coming to an end, some students are excited for the long summer break ahead of them. It can be hard to think of next school year, but students and teachers alike are optimistic about the coming years in high school; and for some, college.
Freshmen are experiencing their last days as the youngest kids on campus before a sophomore year full of new teachers, classes, friends and experiences.
Freshman Rebecca Rashti is keeping her head up and can't wait for this year's finals week. Or, more accurately, when it will end: "I am looking forward to getting the finals over with, but I am very stressed because I want to get good grades and I want to have a good GPA," Rashti said.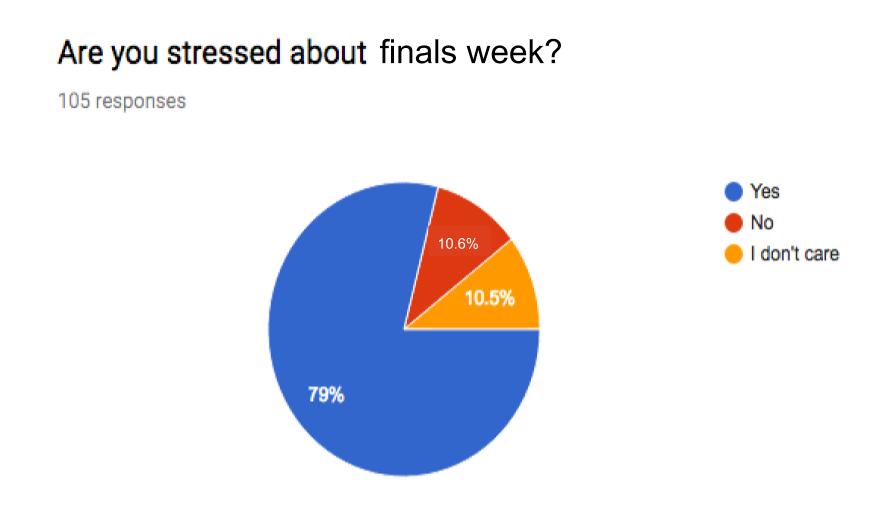 Rashti is not alone in her feelings. Seventy-nine percent of the respondents are stressed about finals.
Another freshman, Joshua Neidleman, is more indifferent to the "big week." "I'm feeling fine about finals. It's not great," Neidleman said. Class-wise, Neidleman is looking up at his possibility to take AP Euro for the "opportunity to take a more advanced course," and Symphonic Band to be "in a more advanced ensemble." He was recently accepted into Symphonic Band.
With these last few weeks ending, sophomores are anticipating their next year as juniors. Many are worried about their upcoming SAT and ACT tests, which count for college applications and admittance. However, sophomore Alex Weiss is excited for something a little different.
"I'm optimistic that I am going to be a junior next year. An upperclassman, you know?… It'll be nice to be older than a lot of other students," said Weiss. She also mentions that she can't wait for football season, because "it's fun to go to those games!"
Weiss is not an outlier, but she isn't a majority, either. Thirty-one percent of the students surveyed are anticipating sporting events, with an even smaller number (18.1 percent) hoping to go to Homecoming.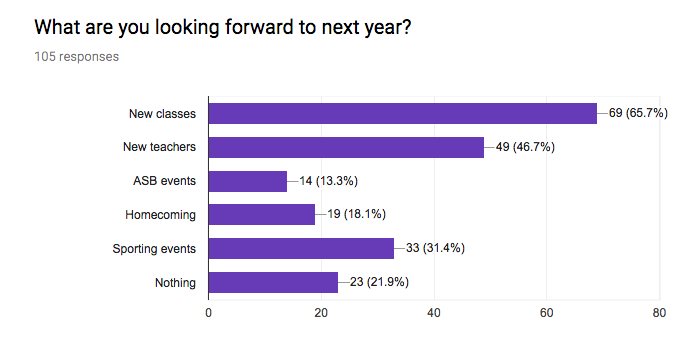 However, she realizes that being a junior isn't all fun and games. "I am pretty nervous [for the SAT] but I am going to do practice tests so hopefully I do well," Weiss said.
Sophomore Kabir Kapur has goals similar to Weiss. "I am looking forward to finally being an upperclassman and all of the various opportunities I will be provided with," Kapur said. By opportunities, he means Link Crew and his two AP classes in his favorite subjects, English and history.
Kapur has a more optimistic outlook on finals week. He is looking forward to the "puppies. Definitely the puppies." For future years, he is excited to advance his expertise as a goalie for the school's lacrosse team.
Juniors have finished the arguably hardest year in their high school career. With the SATs, ACTs, college applications and the AP Exams all crammed into one year, many students are looking ahead to a more relaxed senior year.
But, junior Gina Reyes has a one track mind: summer.
"I'm going to go back to my hometown, which is Miami," Reyes said. "I'm excited to spend a couple weeks there, catch up with my friends, and then I'll come back here."
Reyes also notes that the one thing she hopes to get out of finals week is a passing grade. 
"I really want to pass," she said. "That's what I really am looking forward to. Passing." Reyes is also anticipating her first day as a full-fledged member of Dance Company.
Last, but not least, the seniors. The oldest kids on the campus. In their last year at Beverly, the "top dogs" reflect on how far they have come and how far they will go. They don't have much to add in their feelings about the next year at Beverly, simply because they won't be here! The seniors are off to college, and they will be freshmen once again.
"Go Anteaters!" said senior Kate Andrade since she will be attending UC Irvine in the fall with the hopes to major in English. However, she still has a few weeks left, and is anticipating the end of them.
"I'm optimistic about the end of the school year. I'm optimistic about moving on. I'm optimistic about… going and leaving and growing, you know, going away from my family… and staying at the dorms like taking my first step into adulthood," Andrade remarked.
She has a whole new world of challenges waiting for her at college. One of which: who will be her new roommate?
"I hear conflicting things about roommates so I'm looking forward to that, and I'm hoping that I get a good roommate," Andrade said. "I hear that if you get a good roommate, they're your lifelong friend."
To senior Guillaume Bogard, "Optimism is the idea of looking at only the positive aspect of things and matters,"
Bogard is optimistic about taking his first steps into adulthood. "I'm excited to receive my diploma," he said. "It is one step closer to the rest of my life."  
The freshman will grow up, the sophomores will apply to college, the juniors will catch senioritis, and the seniors will become adults.
Says Neidleman, "I'm just happy for the school year to be over."