Journalism students take third place at 2019 LAJTA regionals
Jude Binkley staff writer
Members of the journalism department competed against five other schools over the weekend at the LAJTA regional write-off competition at Cal State Northridge. Despite having a small team of seven students, Beverly Hills placed third overall in Sweepstakes. The event had 49 competitors in six different journalism-related categories, including news, opinion, feature and sports writing.
Six of the students from Beverly placed top 10 in their respective competitions and will have the opportunity to move on to compete at the Southern California Journalism Education Association State Write-Off in Long Beach next month.
| | | | | |
| --- | --- | --- | --- | --- |
| Sam Bernstein | Senior | Opinion | 1st | Highlights |
| Isabella Sanchez | Senior | Photography | 2nd | Watchtower |
| Emma Newman | Freshman | Feature | 3rd | Beginning Journalism |
| Alya Mehrtash | Sophomore | News | 4th | Highlights |
| Catherine Gagulashvili | Junior | Feature | 7th | Highlights |
| Ava Seccuro | Junior | Feature | 9th | Highlights |
Senior Sam Bernstein took first place in the opinion write-off which covered a local event involving the Westboro Baptist Church and Sequoia High School.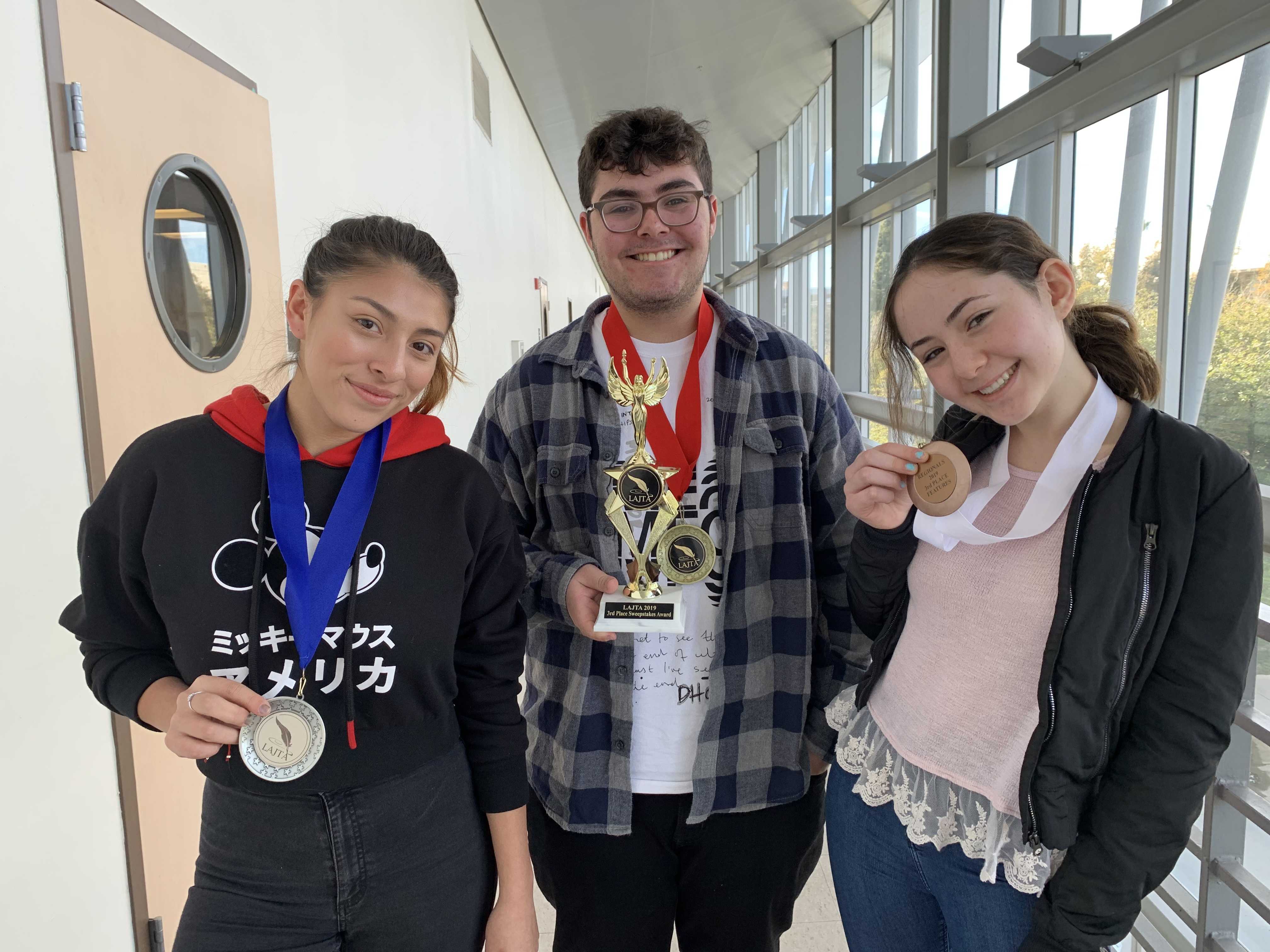 "It was it was a sense of achievement unlike one I'd ever felt from high school journalism before," Bernstein said. "It was an overwhelming sense of pride and accomplishment that was rather unexpected going into it."
Bernstein is looking forward to going on to represent Beverly at the state write-off, where he will compete against a larger group of students from across the state. Highlights' copy editor Catherine Gagulashvili wrote a feature story on Jerry Jones, who opened a summer school in a small town in France.
"I always really love going out on Saturdays to compete, because it shows how we've learned in the classroom and how we've been applying our skills. It gives us a chance to get recognized for that in one way," Gagulashvili said.
Gagulashvili is proud of her fellow staff members and peers in the journalism department for their commitment and being able to apply their journalistic skills outside of the classroom.
"I think it reflects really well on our school when we go out and try to compete and do our best because it really shows a sense of dedication, and a sense of motivation to make our school look good," Gagulashvili said. "It's also always really gratifying to just see your work recognized in any form. Whether or not you win an award, I think it's nice to just have your work be judged by somebody else and get that feedback because we're so used to just having two editors and Ms. Doyle look at our work and that be it. But I think it's always really nice to get an outside perspective on your work."
For journalism adviser Gaby Doyle, having students place from three of her classes, Highlights, Watchtower and Beginning Journalism, brings a sense of accomplishment.
"I'm just always impressed when students are willing to take their Saturday and do something academic," Doyle said. "It really makes me proud."
The SCJEA state competition will take place in Long Beach on March 16.