Full-time teacher tackles balance of full-time motherhood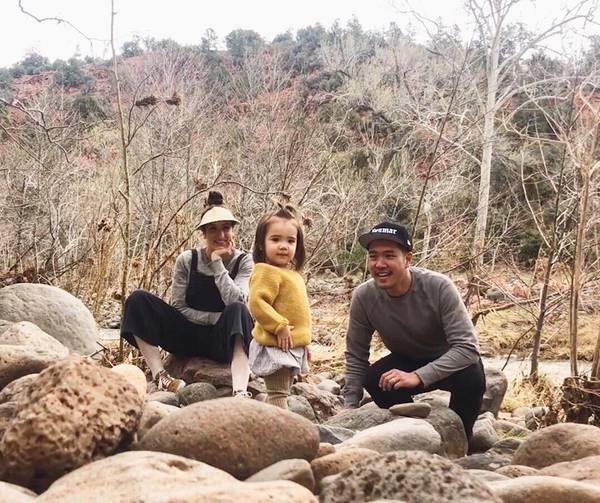 Chieh-Ning (Jenny) Ho cub writer
Just two years ago, biology teacher Cassandra Chavez had her first baby girl, Klark. She went from doing whatever she wanted to do, to having to think about another person all the time.
In the previous school year, Chavez was offered a year off for maternity leave by the school district. She was able to enjoy her time at home because it allowed her to rest.
"[Taking a year off] was a really great luxury to be able to do to stay home…I actually got to stay home with her [Klark] for 14 months before I went back to work," Chavez said.
Before having her baby, her life was different. She felt less busy, she could take her time accomplishing tasks, and she never felt like she had to be somewhere immediately. However, once she was back teaching, worries and concerns floated in her head.
"I think that I used to [worry] because she has a lot of food allergies. So just wondering if today is the day when maybe something will pop up that we hadn't anticipated before. But I really trust our nanny and she knows what to expect from us and what to expect from Klark. So I don't worry about her that much," Chavez said. "Sometimes they go and play somewhere. So I get a little worried about that. Or if they're going to go outside on a walk like they cross the street, I get a little worried. But I try not to think about it that much because that [will] just drive myself crazy… And because if I do that, then I can't focus at work."
Despite the nanny's presence, there were times where Chavez wanted to rush home to see her daughter. However, she was unable to because of work.
"There was this period within…the first month of school… and she kept on having [a] severe allergic reaction…we couldn't figure out what was causing those hives because she had them one day and then we thought we had figured out…maybe we had cross contamination or something. And that wasn't the case… we figured out that there was a small percentage of cashews in the almond butter. And that was what was causing their reaction and she's allergic to cashews," Chavez said. "…So for about three days every day, I would get a phone call from our nanny like right when I was starting school that she was having worse reaction and I couldn't do anything about it."
Fortunately, her husband was able to hurry home and resolve her worries.
"…My husband's schedule [was] more flexible so he was able to go home and assess it and make sure she was okay…[and that we] didn't need to use an EpiPen or anything like that."
After her long day at work, she usually stays at school for a while before going home.
"I usually stay for about an hour to an hour and a half after school getting ready for the next day or collaborating with Mr. Kobe. Then I usually go straight home and relieve our nanny. Then we get dinner ready and she takes a bath or a shower and read some book, play, get on the PJs," Chavez said.
During the weekends, Chavez likes to take her daughter to the classes she signed her up for and go outside, where her daughter can be close to nature.
"I have actually signed up for classes where she gets to play with other kids on the weekend because she doesn't get that much interaction during the week while at home because we're not like near a park really," Chavez said. "We went to the Grand Canyon in Sedona for spring break because I wanted her to be able to be outside…We just try to give her as many new experiences as possible. So that because it's fun, and you learn through having those experiences, and it's fun for us to like watch her experience it. I think that's probably one of the best parts [being a parent]."
Being a parent has taught Chavez many different aspects in life. It isn't just learning how to take care of a baby, but also the experiences from it.
"I think that that's really what has blown me away I think the most is like how quick babies pick up information and how observant they are. It's really incredible," Chavez said.