Five sushi places in greater Los Angeles area, ranked  
Leia Gluckman staff writer 
Emma Newman staff writer 
Sushi. It's one of the most universally popular food items, whether you're in Japan, London or Los Angeles. 
However, when looking at a long list of options, it can be difficult to know which restaurants are worth the money and the time.
Below is a list of five sushi restaurants broken down based on creativity, ambiance and service, food quality – determined by each restaurant's most popular roll and spicy tuna roll- and price point. This scale will be used to rank specific food items from different restaurants over the course of the year.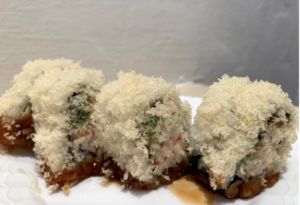 Ambiance/ Service (out of 2): 0/2 
Instead of having bright lights, kind waiters and a good aesthetic, Sushi Stop's atmosphere was cold, dim and unwelcoming. The waiters took 15 minutes to take our order, and they were very unresponsive to questions. In addition to the poor service, the atmosphere of the restaurant was almost fast-foody in the sense that it wasn't attractive, clean or special in any way. Instead, the seating arrangement consisted of a large, dark counter in a small, poorly lit restaurant. There was honestly nothing remotely attractive about the way that their restaurant was set up. 
Creativity (out of 2): ½
Although the menu had a variety of foods, most of their items were generic. There were some "special" rolls listed, but there was nothing "wowing"  on the menu that distinguishes it from any other restaurant. The only sliver of creativity that was particularly noticeable was their attempt to create a sushi bar. Unfortunately, as was the case with their food, their execution of this concept fell short of decent. But, hey, a point for effort.
Food Quality (out of 6): ⅙
The kindest thing that can be said about the rolls at Sushi Stop is that they were cheap-tasting and resemble what you would get from a grocery store refrigerator. The spicy tuna roll had a kick and strong flavor, but it tasted packaged and had a weird aftertaste. One of their most popular rolls, the crunchy California roll, was hands-down the worst sushi roll imaginable. The teriyaki sauce on top of the roll was not only disgusting, but it did not compliment the bland, choppy, dog-food-like California roll that was underneath it. If you like bad sushi, this restaurant is for you! 
Total Number of points (out of 10): 2/10
Price Point: $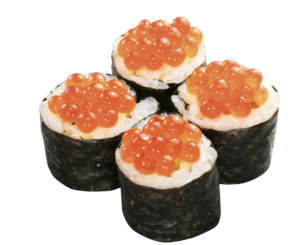 Ambiance/ Service (out of 2): 2/2
Kura, which is a conveyor-belt styled sushi restaurant, had a great perk: there is always food available. Sure, to get your exact roll of choice, you have to wait a little, but sushi in some way, shape or form will always be right in front of you. In addition, the staff was extremely helpful when answering questions about the cool yet confusing set-up, and there were condiments available in the blink of an eye. These two aspects contributed to the near-perfect atmosphere and service in the restaurant. 
Creativity (out of 2): 2/2
Of all of the restaurants that we went to, Kura was the most creative. If you have ever gone to a conveyor belt sushi restaurant, then you understand how weirdly satisfying it is to watch sushi travel to you, and how great of a feeling it is to figure out how to use the set-up. In addition, there were so many different varieties of sushi along the conveyor belt, which made the restaurant even more unique. 
Food Quality (out of 6): 2/6
In terms of quality, Kura's sushi was mediocre at best. Both the popular ikura sushi and the spicy tuna roll were unmemorable and tasted like they had been on the conveyor belt for days. Even though the tastes weren't distinctly gross, it was easy to spot how bad the actual fish quality was when taking a bite of the sushi. None of the sushi was difficult to eat, but wasn't enjoyable to experience the taste of old sushi either. 
Total Number of points (out of 10): 6/10
Price Point: $


Ambiance/ Service (out of 2): 1.5/2
A welcoming, well-lit, sushi restaurant sounds like the ideal spot for a nice dinner, and it is. While the waiter was friendly and our food did come quickly, the waiter did not split the check when asked and ginger and wasabi were not provided unless specifically requested. Aside from this, the overall pleasant ambiance of Yu/Mi with music that does not overpower table conversations establishes a near-perfect environment for lunch or dinner.
Creativity (out of 2): 2/2
Offering diverse menu listings while managing to have each contribute to the overall restaurant vibe, Yu/Mi promoted a variety of items ranging from traditional rolls to izakaya vegetables. The "Under the Sea" theme of the restaurant was something that none of the other sushi restaurants came close to in creativity. The reds and blues that covered the walls and furniture enhanced the overall experience and brought a new level of liveliness to the restaurant.
Food Quality (out of 6): 4/6
El Nino was easily the best specialty roll out of all five restaurants. El Nino is an explosion of citrus and cream that simply tastes 'clean'. While El Nino is a truly phenomenal roll, the spicy tuna roll does leave much to be desired. The roll is flimsy and lacking spice and flavor all together and it specifically does not meet the high expectations set by the El Nino. Yes, the spicy tuna roll is  disappointing, but the wonder that is El Nino cannot be denied.
Total Number of points (out of 10): 7.5/10
Price Point: $$$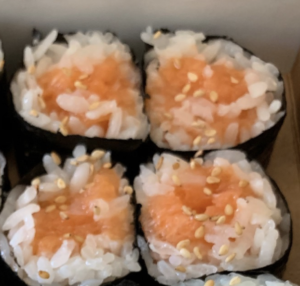 Ambiance/ Service (out of 2): 1.5/2
KazuNori, with its sleek and polished aesthetic, is the seemingly perfect place to enjoy a meal in the midst of a day in Westwood. The waiters brought the ginger and wasabi right away and were incredibly attentive. The bar stools provided a clear view of the behind the scenes process of assembling hand rolls and other dishes. However, the main problem with the restaurant was the compact and crowded seating arrangement making it difficult to eat comfortably.
Creativity (out of 2): ½
Known for being the original hand roll bar, popular Japanese dishes like ceviches and sashimis are not available at KazuNori. The experience as a whole was essentially a reflection of Chef Kazunori Nozawa's better known restaurant: Sugarfish. However, what stands to be incredibly unique about the hand roll bar is the overall experience coupled with the classiness of the food selection.
Food Quality (out of 6): 5.5/6
One of the most consistent characters of both of Nozawa's restaurants is the pristine quality of the fish and ingredients. One problem posed was the lack of spicy tuna option. KazuNori's salmon hand roll, as well as many of their other menu items, circled around a citrus and fresh flavor profile which while delicious, did exclude any and all potential notes of spice.
Total Number of points (out of 10): 8.5/10
Price Point: $$
1.Yojisan: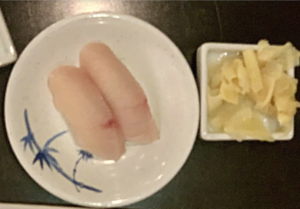 Ambiance/ Service (out of 2): 2/2
It's easy to sense how traditionally beautiful the restaurant is when walking in to Yojisan, and it only gets better once talking to the waiters. The staff is lovely, and they even gave us an extra sushi item for free. The vibe of the restaurant is classy but casual, which makes it the perfect place to get a nice dinner. 
Creativity (out of 2): 2/2
When going to Yojisan, the menu greets you with a variety of unique and equally appealing menu options. From sashimi to sushi to carpaccio, there is every type of traditional and nuanced roll that is in reach, and yet somehow, each menu item perfectly complements the vibe of the restaurant. 
Food Quality (out of 6): ⅚
The food quality of Yojisan was consistently impressive, whether it was through strong flavors or mild undertones in their sushi. When comparing all of the spicy tuna rolls, Yojisan's spicy tuna roll was far superior to the others. It had deliciously fresh chopped tuna that would have been great on its own. However, what made it so amazing was the acidic yet spicy addition of chopped wasabi to the top of the roll we tasted. It was definitely the best item we ordered from any of the restaurants. However, their popular yellowtail sushi, while fresh and tasty, was not very memorable and did not stand out as anything amazing. Even though this one item was not the best, their food overall was great in quality and taste. 
Total Number of points (out of 10): 9/10
Price Point: $$$

*note of caution: After going to Kura and SushiStop, we both started to feel sick. This resulted in nausea and the inability to eat food without it worsening, which lasted for about three days. Now, we aren't sure which restaurant, if either, is the culprit of the potential food poisoning we both got, but just to be safe, we would not recommend going to either establishment. However, if you want a sure way to get sick before a test, definitely try both!