An evening with Waxman
Ryan Feinberg, print editor-in-chief
News Column
Representative Henry Waxman, D-Calif., running for reelection as representative of the 33rd congressional district, is in a predicament: for the first time in 41 years, he has real competition.
Although Waxman has held a congressional seat since 1975, running against Independent Bill Bloomfield is a particular circumstance because Bloomfield has the financial means to heavily fund his own campaign. Because of this, Waxman is making a serious effort to garner all the votes he can get. Such an effort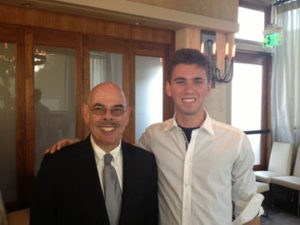 has led to events with community figures, one of which I was fortunate enough to attend.
The congressman hosted an evening gathering with local hospital officials, in hopes of getting their support for the election.
Hearing Waxman speak was different from what I had anticipated. To me, the best "sales pitch" for Waxman would be to emphasize all the effective measures he has enacted over his time as congressman, specifically improving environmental conditions through his Chairman of House Energy and Commerce Committee. Rather, his ephemeral speech mostly explained how this is the first time in his congressional career that he has met competition that could actually pose a threat. He did, however, mention that he genuinely has our district's interest at heart, which is reassuring considering his pseudo-independent opponent (he is a Republican running with no party affiliation, but the residents of the 33rd congressional district do not need to know that…) has poured $5.5 million into his own campaign thus far.
Although his short speech did not illustrate anything spectacular, I do not think it had to. Waxman's policies speak for themselves. His efforts to improve the Clean Air Act provide a healthier environment for each and every one of us. He is a politician who will positively influence the lives of all of those living in the 33rd district.
If you are eligible, whether or not you support Waxman or Bloomfield, the least you can do is vote.