Emma Newman staff writer
Leia Gluckman staff writer
When searching for a warm, comforting dish, one of the most accessible and fitting options, especially in Los Angeles, is ramen. A wide selection of ramen options are available to people in neighborhoods such as Melrose and Sawtelle, but with so many options, it's difficult to know which restaurant to choose. Below are five restaurants, starting with one you should avoid and ending with one you should enjoy.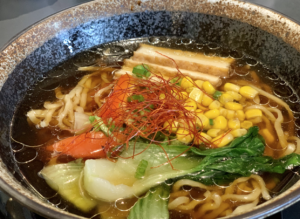 Ambiance/ Service: 1/2
At first glance, Kimukasu seems like a nice place to dine. The restaurant is welcoming, bright and clean with plenty of available seating. Despite having few customers, the service is unforgivably slow and the food takes way too long to arrive.
Creativity: 0.5/2
Although the size of the menu wasn't exactly small, the options for ramen were limited. In fact, there were only three soups to choose from. None of these options are special in any way, and there were no topping add-ons available. The only vestige of creativity was their inclusion of a vegetarian option, which was similar to every other restaurant. 
Food Quality: ⅙
The meat ramen had decent pork slices,  but that was the only positive aspect of the soup. None of the toppings were particularly special, and the noodles were mediocre at best. However, what made this ramen dish truly awful was its broth, which barely resembled the savory, pork taste of a good ramen broth. Instead, it tasted like straight-up fat. This dense and foul taste made it impossible to enjoy, and hid all potential meaty flavors that could have enhanced it. Sitting in a bowl of oil with thin and slippery noodles buried under layers of raw and flavorless toppings, the vegetable ramen was inedible. The tofu had the texture of rubber and appeared to be coated in unrecognizable spices. The ramen isn't worth the money for something as horrendously bland and awfully textured as this.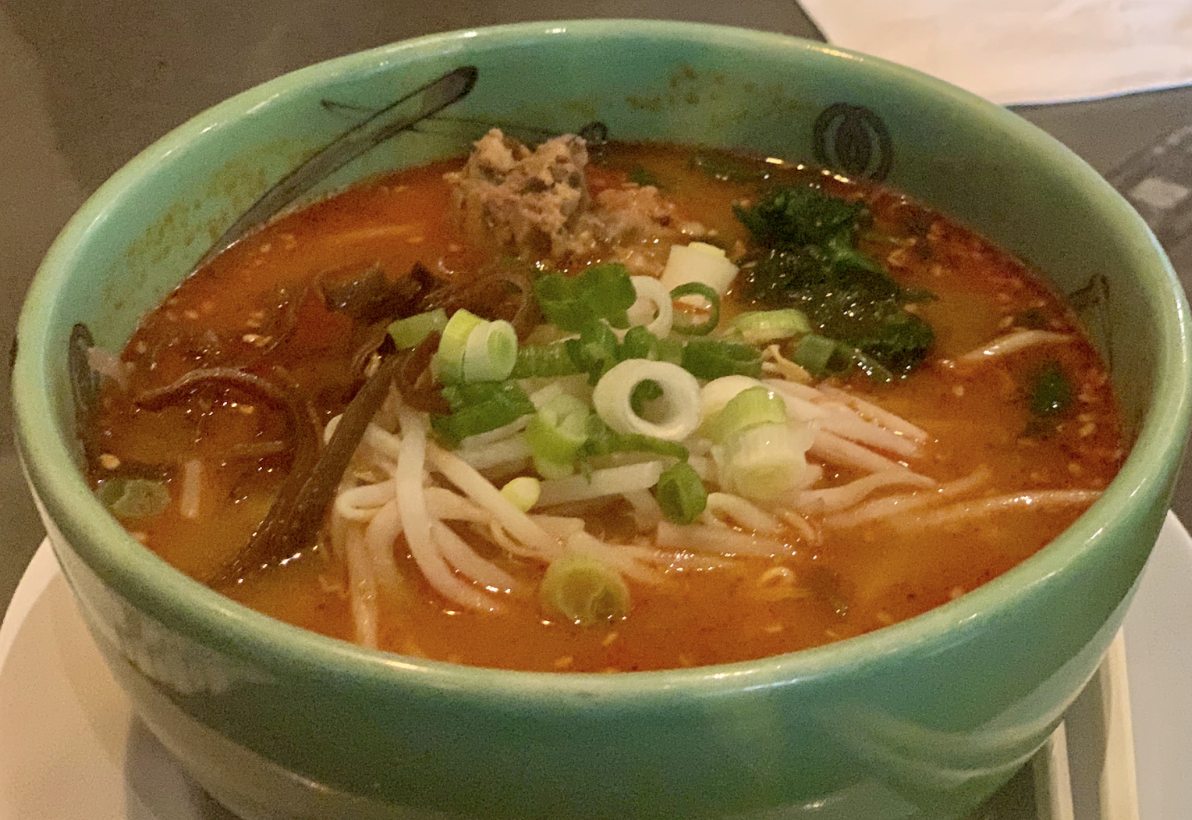 Ambiance/ Service: 0/2
Practically empty, dark and not very clean, Menya Musashi is isolated and unwelcoming. Even the outside seating feels detached from the rest of Melrose. Because of the surprisingly slow service for a place with very few customers, the experience as a whole felt like a waste of time for food that isn't very good.
Creativity: 2/2
Menya Musashi may not have been the most appealing to the eye, but the sheer number  of options on the menu certainly makes up for it. Besides offering a wide range of broth, with even two vegetarian options, customers get to choose from a wide variety of toppings and two types of noodles, which makes it fitting for people with almost any ramen preference. 
Food Quality: 1.5/6
The pork ramen has one major flaw: it had such an overwhelming meat taste that it was almost inedible. Ramen is supposed to have a delicate balance between meat, salt and creaminess.  Instead, the broth tastes more like pork juice than soup. The soup was only worsened by the fact that the flat noodles are both difficult to chew and strange in terms of taste. With practically raw noodles soaking up water, the spicy vegetable ramen was unpleasant. The broth was non-existent and the topping was flavorless, making for a dish that few people would want to eat.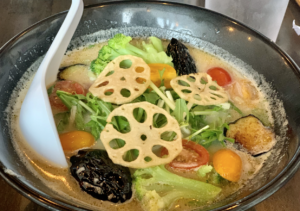 Ambiance/ Service: 1.5/2
With quick service and a short line outside, the dining experience at Mogu Mogu took less than 30 minutes. The wait staff is friendly and attentive, and expedited the dining experience. Like many other ramen restaurants, Mogu Mogu is small, dark and unwelcoming. Overall, the restaurant is a casual and comfortable place to grab a quick ramen.
Creativity: 0.5/2
Mogu Mogu offers a diverse menu with many types of noodle options, with a signature soupless noodle dish called Mezamen. The problem with this is that there are only three types of traditional ramen  dishes on the menu, making it difficult to satisfy a wide range of palates. Luckily, one of these options is vegan, but that does not make up for the lack of authenticity and uniqueness that the menu has in terms of ramen options. 
Food Quality:  4.5/6
Mogu Mogu's pork ramen tastes like a typical ramen dish. The broth's strong flavors and light texture certainly make it enjoyable, but the soup fails to reach the full potential that creamy and intense ramen should have. In addition, while the noodles are tolerable and chewy, they are thin and unexceptional. The vegetarian ramen is colorful, flavorful and all around pretty decent, but the addition of tomatoes completely throws off the flavor balance. Despite this, the veggie ramen makes for amazing leftovers.
Story continues below advertisement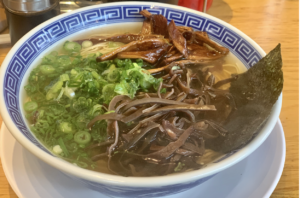 Ambiance/ Service: 0.5/2
Rushed, cramped and loud, Tsujita is not the ideal place to have a quality conversation over ramen. With a 30 minute wait prior to being seated, the waiter did not come to the table for another 10 minutes. 
Creativity: 1.5/2
 Tsujita offers seven ramen dishes from two different styles, traditional ramen and tsukemen, which makes the restaurant unique and authentic.  Its specialty ramen, the tsukemen-style, even offers an option of diluting the broth to personal preference, while the traditional ramen allows the customer to decide how hard or soft their noodles are. Both types of ramen also have a wide variety of toppings available. However, the menu is not as detailed as the menus of some of its competitors.
Food Quality: 5.5/6
The tsukemen-style pork ramen at Tsujita was outstanding in every way. The broth is flavorful but not overwhelming . Instead, it offers the customer a unique blend of Japanese flavors and meat undertones. In addition, the texture is smooth and creamy, which makes for a flawless experience. With a large variety of  toppings, the perfectly salty bamboo shoots are a stand-out. For this soup, the noodles are firm enough to keep their shape, thick enough to make an impression and chewy enough to have the perfect texture. With thin and chewy ramen noodles coupled with deliciously authentic broth, one might be led to believe that this is the perfect ramen. 
When it comes to the vegetable ramen, the broth is a perfect balance of citrus and salt and full of flavor. Unfortunately, the scallions were ridiculously slimy and kept slipping out from the grasps of chopsticks making it a hassle to eat. Aside from the bamboo shoots, the toppings on the vegetable ramen is underwhelming.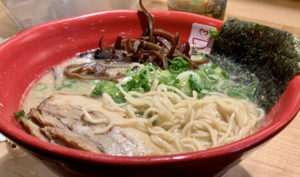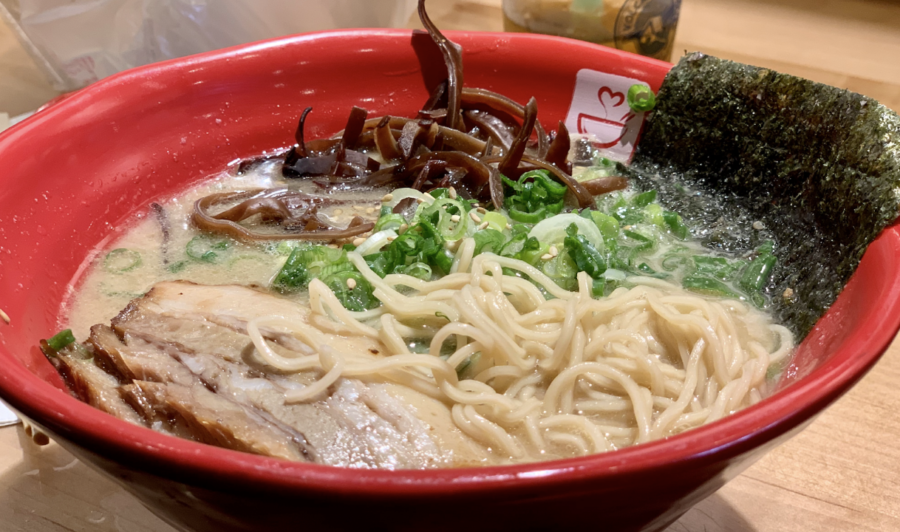 Ambiance/ Service: 1/ 2
Incorporating technology into their service system, Tatsu allows clients to order their ramen online and has the ramen ready at roughly the same time one is seated. Not having to spend time in a long line gives customers the time to walk around Sawtelle until their food is ready. Even though the overall holdup is somewhat long, with food at the table almost immediately and the lack of an in-line wait, time spent waiting for a table  is trivial.
Creativity: 2/2
Tatsu's unique set-up allowed customers to almost completely customize their order. This makes the options practically endless, offering choices in broth, protein  and toppings. In addition, the restaurant serves two types of noodles, which makes each dish on the menu unique in its own right. Overall, the restaurant strays away from both fast-food style ramen and traditional Japanese, which makes it stand out in comparison to other ramen restaurants. 
Food Quality: 5/6
The pork ramen at Tatsu is definitely tasty, but does not stand out as being exceptional. While the texture of the meat broth hits all the right notes, the broth is not flavorful enough to make a lasting impression or "wow" anyone, seemingly lacking the powerful meat undertones that are necessary to make pork ramen amazing. In addition, the noodles are hardly outstanding, with their typical thinness and subtlety. The Hippie Ramen, the best vegetarian ramen of the day, has a delicious broth with citrus and nutty flavors. The toppings are tied together by a variety of spices and the noodles were texturally wonderful. The tofu was perfectly cooked with a delicious sweet and salty crust tying together an unforgettable ramen dish.