Varsity wrestling wins runner-up at CIF-SS finals for first time in school history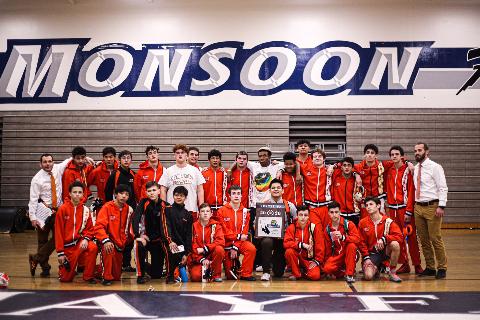 Ava Seccuro co-editor-in-chief

For the first time in school history, the boys varsity wrestling team placed second in the CIF Southern Section Division 4 finals dual meet.
The Normans respectively beat the La Mirada Matadores, the Irvine Vaqueros and most notably the Royal Highlanders, a perennial CIF champion who over the course of 15 seasons, won their league for 14 seasons and advanced to the CIF finals for 10 seasons, by a nail-bitingly close score of 28-27. This huge upset allowed the Normans to ride the wave to the finals, but their jaunt was cut short by a 10-point loss to the San Clemente Tritons.
The team kept the momentum going this weekend shortly after winning Bay League Finals against the Santa Monica Vikings. The team had to beat three teams in total to make it to the finals: two matches more than where they finished last season and one match more than where they had set their goal in the beginning of the season.
In order to advance to the finals, they "needed three miracles," head coach Ryan Faintich said. Those three stand-out matches were those of junior Reef Travish at 195 pounds, junior Ben Maizes at 160 pounds and heavyweight senior Jeremy Zarnegin.
Travish, versing one of the best ranked wrestlers in the state, according to Fainitch, had to either win or keep a close loss in regards to points. While neck-and-neck with his opponent, Travish managed to nearly pin him down, but ended up losing by five points, Faintich said, but still kept it close.
The next notable match was a familiar battle for Zarnegin. Going up against a wrestler who had previously beaten him 4-1, Zarnegin "absolutely shut [his opponent] out" 2-0, Faintich said, and won some more points for the team.
Although nervous, Zarnegin believes that the Royal Highlanders underestimated them and that it was "huge" to win against the former CIF champions.
"I felt extremely nervous because I knew that the whole meet was going to be close, and the guy I wrestled had beat me a couple weeks before, but I was well prepared this time," he said.
At this point in the dual, the Normans were up 28-24. This meant that Maizes had to either win or could only lose by seven points or less, to secure a win for the dual meet as a whole, Faintich said. Bumped up to the 160 pound weight class, Maizes met his match facing the Royal Highlanders head coach's son, Aidan Carrillo, a "really great wrestler," according to Faintich. After Maizes had to fight up from off his back numerous times, at a "very notable" last two seconds of the match, as Travish recounts, Maizes was able to "escape" and lose his match by seven points, sealing the win for the Normans with a one point difference.
Once the score was confirmed, Faintich was "very happy" to be bringing home a banner and a plaque to hang in the athletic buildings.
"It was the greatest dual meet I've ever seen. Obviously it was very tough, but you always have a chance to win and we were a significant underdog…It's just a thrill. For me as a coach, it was one of the highlights of my coaching career, I know for all the wrestlers it was the highlight of their wrestling career," Faintich said. "Since the school's been here, I haven't seen any banners or plaques that have wrestling on them, so to bring one back, it's a significant milestone and I think we're all very proud of that accomplishment."
"Tooth and nail" would be, if anything, the one phrase to describe the dual because, according to Faintich, the outcome of this meet was "so far ahead" of the original goal to make it to CIF semifinals. To win it, though, was a "tremendous honor," he said.
"Throughout our whole meet, every single wrestler on our team fought tooth and nail for every single point," Zarnegin said.
The same mentality Zarnegin mentioned was what really pushed the team to keep going and chase after this historic feat, Travish said.
"The momentum acquired after matches like Jeremy's and junior Garret Volk's really helped morale and inspired some of our younger guys to really step up," Travish said. "This semi final win means so much to me and the whole team because of the history between our two schools. What had been thought to be an unattainable goal had been executed that very day and it couldn't have happened without everyone on our team."
Despite the fact that the Normans fell short during the finals dual and didn't completely sweep CIF, Faintich is anything but upset.
"It was a really hard fought match and I think the kids were really sad. Anytime you watch the World Series or the Super Bowl, right after it ends they always focus on the losing team's dugout, and I think all of our guys know what it feels like to be that player watching the other team celebrate," He said. "But at the same time, so few people get to the World Series, and for us to be there, to have that huge upset in the semi's and to bring home a plaque and a banner, at least for me, it's been nothing but jubilation."
With the team duals over with, individual weight class meets will begin. Next week, Bay League individual finals take place in the Swim Gym, the following week, wrestlers compete in CIF individual finals, the week after that is the Masters tournament, and whomever places highly in all three of those meets will, like former wrestling captain Daniel Heller '19, compete at the state level.
With both Travish and Zarnegin aspiring to make it to the Masters meet, Faintich is ready to get not only them, but more of his wrestlers up to that level.
"It's just a matter of keeping our guys ready and hungry and as prepared as possible for those challenges," he said
Bay League individual finals will take place Friday, Feb. 7 starting at 11 a.m. in the Swim Gym.