Leia Gluckman staff writer
Watching the news one night, Laura Margo saw a story about a pizzeria in Belmar, New Jersey, Frederico's Pizzeria, that has taken out a loan to keep their employees staffed during the current COVID-crisis. As the residents of Belmar united to keep Frederico's in business, the restaurant received calls asking how they could donate pizza to frontline and hospital staff.
Inspired by this story, Margo decided to create Meal to Heal and unite the Beverly Hills community around a common cause. When she started the program, all meals purchased through Meal to Heal were sent to the Cedars Sinai ICU COVID-19 staff.
Margo's new program has circulated around town and brought community members together in support of small businesses and medical professionals at 11 hospitals, including Cedars-Sinai.
"[For many employees] it's the highlight of their day," Margo said. "The amount of times people are now calling in sick has severely decreased because they're so excited about the attention that our community is giving them and the meals that we're sending over."
Cedars Sinai has eight ICU COVID-19 units with upwards of 100 people staffed in each unit. Meal to Heal's goal is to provide a minimum of 100 meals a day to Cedars.
"When [donations] slow we start writing emails to people and asking for some help with a particular restaurant to make sure that, so far, everyone gets to 100 because Cedars Sinai is really counting on us," Margo said. 
Meal to Heal is constantly growing as community members and restaurants learn about the program.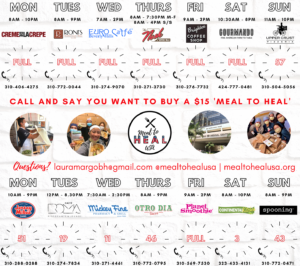 "Every single day I am getting calls from restaurants that are really wanting to be in the program," Margo said. "It's all about word of mouth and getting the word out there [about the program]."
As more and more people get involved, Margo feels the city is truly uniting around her cause. 
"We feel like we're a team now, the whole city," she said. "Everybody's so positive, people are volunteering to be a team captain for certain restaurants and help make sure they hit their goals." 
City Council and resident Cheryl Saban have been of immense help to Margo by grasping community engagement and by sponsoring meals.
"Meal to Heal truly brought out what we all love so much about our community which is that we have a tremendous amount of heart, we are a family," City Councilmember Lili Bosse said. "There is no better feeling in the world than giving back and this gives us the opportunity to thank the heroes who are our guardian angels that help keep us healthy and safe."
With the help of the city and the community, Meal to Heal continues to grow.
"People keep asking, 'How long are you going to do this program for?' We're going to try and continue this program for as long as there is the need," Margo said.
From Laura's initiative, the program has expanded to support frontline medical staff at hospitals in other cities in California.  To stay updated on Meal to Heal follow their Instagram or their FaceBook.
If you would like to donate a meal click the following link: https://www.mealtohealusa.org 
"Obviously we would love someone to come in and buy 10 meals," Margo said. "If you have $15, you could buy one meal. Every donation helps."
Story continues below advertisement