Ava Seccuro co-editor-in-chief
Alya Mehrtash managing editor
This year, eight senior student athletes have committed to their college of choice for a sport.
Seniors Ryan Fernandez, Emmerson "Emme" Hayes, Hannah Kimura, Thomas Recupero and Angela Bradbury have committed to Division 3 universities; senior Juan Perkins has committed to a Division 2 university; and seniors Karina Yaroshenko and Nick Andrews have committed to Division 1 universities.
Andrews did not respond to attempts to reach out for comment in time for publication. Continue reading to see the process and motivations behind each senior's commitment.

Karina Yaroshenko


Karina Yaroshenko has committed to continue fencing with the University of Notre Dame Division 1 fencing team in Indiana.
Yaroshenko started fencing at the age of seven, but it was when she began competing at age 10 when she "knew that this is what I would be doing for my career." Despite this epiphany, it truly hit her once she began high school.
"My freshman year in high school was when it really hit me that I was going to be continuing fencing in college. I had an overwhelming feeling of excitement, but also anxiety," Yaroshenko said. "I was excited because I would be able to continue doing what I love most throughout college; however, I was anxious because that meant that I would need to learn how to balance my academics and my athletics. Throughout high school, this has been one of the greatest challenges. I had to learn how to maintain a social life, practice every day, submit all my assignments on time, travel nationally and internationally for competitions and study for exams. Surprisingly enough, I was able to do all of this and get accepted into the university of my dreams."
Her family has continued to support her throughout her fencing career, whether it be through the good moments or the bad.
"My mom would always be there for me to wipe my tears whenever I lost during a competition, or run across the mile-long convention center to bring me a bottle of water. She always believed in me, even during moments when I didn't believe in myself," she said. "My family has always been super supportive of me and my fencing career. Even when money is tight, my parents always find a way to save money to allow me to travel to competitions, both national and international, so that I don't fall behind in my national ranking."
Yaroshenko's coach, Tarek Ayad of the Elite Fencing Club, has also been a huge figure in her career and has become like second family to her.
"My coach believed in me the most out of everyone. I think because from the perspective of an Olympic athlete, he sees how much potential I have. He works tirelessly to make sure that I am doing the correct conditioning exercises, eating the correct foods and maintaining my mental health," she said. "My coach has become like my second dad because we have worked together every day for hours and he knows me better than some of my closest friends. He is always there to push me harder at practice because he knows that I can be the world champion one day."
The recent outbreak of COVID-19 has posed many obstacles for student athletes across the world, and now many of them, like Yaroshenko, face the possibility that their freshman season may be postponed and/or cancelled. She, personally, believes that the virus will cancel her first semester of college.
"This is obviously unfortunate because like everyone else, I was super excited to begin this new chapter in my life. If it does get canceled, I will continue training in LA with my coach and just try to get as strong as I can to start the season as best as I can. I miss competing, traveling and seeing my fencing friends more than anything, so I hope that we will be able to start soon," she said.
Yaroshenko has been looking forward to competing on the collegiate level ever since fencing "had taken over my life" at the age of seven. Now, her career has come full circle, and she will be competing at the highest level of collegiate fencing at Notre Dame.
"What I am most excited about is competing on the NCAA team with Notre Dame," she said. "This is truly such a memorable experience because you get to represent your university at large college meets. I am excited to meet new people, get closer to my team members, and help Notre Dame come out the number one team."

Ryan Fernandez


Ryan Fernandez will continue his athletic career playing for Brandeis University's Division 3 men's baseball team in Waltham, Massachusetts.
Fernandez has been playing baseball since age four and attributed some of his attachment to the sport to his heritage.
"My family is from Cuba, so it was pretty obvious I'd play baseball later in my life. It's been my way out of trouble and has been there for me," he said. "It's definitely shaped who I am today."
Fernandez's relationship with his older brother Rigo Fernandez, who was drafted to the Chicago White Sox in 2018, heightened his passion for the sport as he longed to follow in his brother's footsteps. His entire family has been supportive of his journey towards a professional baseball career.
"Ever since 8th grade I knew I wanted to keep playing because I saw my brother do it and I wanted to follow his path," he said. "My family has given me nothing but full support. My parents were always there and my brother, who plays professional baseball, has helped me through tough times. They're very excited and happy for me. They've done nothing but support me through this process and they're extremely excited for what the future has in store for me."
He also views his coaches as great contributors to his success, as they "have taught me everything I need to succeed," he said.
When Fernandez discovered he would be continuing his athletic career on the collegiate level, he was "shocked."
"It's still setting in that I'll be playing a college sport and maybe even have the chance to play professionally," he said. "It was a very exciting moment and definitely the biggest moment of my life so far."

Angela Bradbury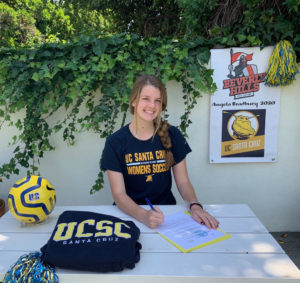 Angela Bradbury has officially committed to continuing her soccer career as a member of the UC Santa Cruz Division 3 women's soccer team.
Originally, Bradbury did not have any plans to continue her athletic career after high school, but only began entertaining the possibility during her sophomore year.
"I realized that I wanted to play soccer in college because I couldn't imagine my soccer career ending after high school because I love the sport so much. I was determined to work hard every day to improve my skills so I could play at the collegiate level."
Bradbury, who has been playing soccer for over a decade now, views the sport as a "escape from the stresses of the world," she said.
"I distinctly remember my first game ever in AYSO. I scored two goals and it was one of the best feelings ever. I've been addicted to that feeling and have loved the sport ever since," she said. "It has never been a chore for me. I have always enjoyed and looked forward to every practice and every game because I knew that it was a chance for me to get better and to have the best time of my life."
During the recruitment process Bradbury attended an ID camp at UCSC, in which aspiring collegiate athletes showcase their talents to coaches in hopes of landing a spot on the team. Following the camp, she was approached by the coach of the UCSC women's soccer team, with whom she had been in contact with for months prior to the ID camp. To Bradbury, this camp was "my chance to show her my true potential and what I could add to her team," which is exactly what she did.
"The moment I found out that I was gonna be playing at UCSC was one of the happiest and proudest moments of my life," she said. "After the camp, she told me how she thought I performed and that she thought I would be a great addition to the UCSC women's soccer team. I could not stop smiling for the rest of the day. I had finally reached my goal of playing soccer at the NCAA Division 3 level and a school that I love and where I know that I'll receive a great education."
While Brabdury views many different people as contributors to her success, her parents have been her standout support system all throughout her life, including her successful soccer career.
"I owe my success to every coach that I have had, all the teammates I've had to compete against, and most importantly my parents. They were the ones to cheer me on at every game since the beginning. They have driven and flown miles just so I can play soccer and pursue my goal of playing in college. They are truly my number one supporters and cheerleaders," she said. "They have seen me grow as a person and as a player, and they couldn't be more proud of me and they can't wait to see what I'll accomplish at UCSC."

Thomas Recupero


Thomas Recupero will be continuing his football career as a member of the Washington University Division 3 football team in St. Louis, Missouri.
Recupero began playing flag football in third grade, and tried out for quarterback, his current position, two years after he began, per his mother's recommendations. Since then, football has become an important part of his life that has shaped who he is today, he said.
"Football has impacted my life in many ways and has truly taught me life-long lessons that I will carry with me for the rest of my life," Recupero said. "Football is by no means an easy sport, but it really gets you to push your boundaries and you learn a lot about yourself along the way."
Unlike many of the other athletes continuing their careers on a collegiate level, Recupero did not originally expect to play football in college.
"I got a call in February from one of the WashU football coaches. To be honest, before that I did not have concrete plans to compete in college, but I applied to a few schools I thought I could play for. After that call, I understood the coach would provide admissions support, and I was ecstatic but also surprised," he said.
Recupero accredits a lot of his success to his family, especially his parents, who encouraged him to get involved in athletics.
"They always pushed me but never forced me to play sports. I am so thankful for that because I realize that staying active is the most important thing one can do throughout life. Not only do you get to stay active while playing on sports teams, but you also get to build life-long relationships with coaches and teammates," Recupero said. "My dad has also really helped me throughout high school to get to the next level whether that was with recruiting or athletically. He is truly behind the success I have had."
His family has supported him for years, in all endeavors including athletics, and Recupero looks forward to having them by his side throughout his collegiate athletic career as well.
"My family is really excited. My father helped me a lot along the way with getting noticed, getting in front of coaches, and helping to keep in touch with coaches. My parents and family regularly attend my baseball and football games because we are a tight-knit family, so their support in everything, especially sports, has propelled me to be who I am today. They are all excited to watch me at the next level."
The high school football program, including his coaches and teammates, also played an important role in Recupero's football journey.
"In addition, I am thankful for all the coaches I have had along the way for pushing me and believing in me, especially the Beverly Hills High School athletic staff and coaches. I am also thankful for my teammates and friends for supporting me."
Being a part of a college football team is an experience that Recupero is "super excited" to have at Washington University.
"I am super excited to have a professional coaching staff at WashU and meet all my new teammates," he said. "Being an athlete in high school was a lot of fun, but I can't imagine how amazing it will be in college. I am also excited to play at the next level and we will see where that can take me."

Hannah Kimura


Senior Hannah Kimura, who's been playing tennis since fourth grade, has committed to play on Wellesley College's Division 3 women's tennis team in Wellesley, Massachusetts.
Although her parents were "really proud" of her commitment, they were also "surprised" because no one in her family was serious about sports until Kimura made her commitment. Kimura felt that Wellesley was the best fit for her academically and athletically, she said.
"The moment when I found out, it did feel pretty good because I wasn't sure of my chances getting into [Wellesley] but the coach emailed me and let me know and I just felt really relieved," Kimura said.
In high school, Kimura played in tournaments almost every weekend leading her to compete in CIF-SS individuals, which she regards as one of her favorite memories of her high school career because she got to compete with her friends from other schools in the Ocean League.
Kimura believes that the support she received from her family and her coaches, coupled with her "love" for competing, was the reason that she was successful.
Despite the fact that Kimura is "pretty sure" her university is starting later than normal due to the coronavirus pandemic, she said she has already met her teammates and knows that she still has three years to play at her college.
But for when Kimura does begin her season, she's most excited to meet other people that have the same passion for tennis as she does.
"I'm most excited to meet other players that are pretty good and love the sport just as much as I do. In Beverly Hills, there are a lot of people that play tennis but there's not a lot of girls, so that's going to be pretty cool," she said. "What I'm most anxious for is I hope that I'll get to play, because here I get to play all the time, but [there] I'm gonna be with a bunch of girls that are amazing, so I'm going to have to step my game up."
Amid all her preparations for getting scouted, Kimura accredits her success to one mentality.
"I know it's cliche, but not giving up," she said. "Once you get to a certain point, it's really easy to just say you're done because you're not getting better or worse. But I kept on playing and that's what got me noticed by some coaches as well."

Emmerson "Emme" Hayes


Senior Emmerson "Emme" Hayes, who has been playing hockey since the age of six, has committed to play for Endicott College's Division 3 women's ice hockey team.
The college commitment process for Hayes started much earlier than some other athletes. In eighth grade, she began emailing schools her game schedules, and since then has been to many tournaments and showcases throughout her high school career. By the end of her junior year, she had a "pretty good idea" of which schools were at the top of her list, and inevitably made the decision with the help of her parents and her coach.
"When I told him I wanted to commit to a school I was excited, nervous and felt a weight off my shoulders. I had a very difficult time deciding where I wanted to go to school. I had my list narrowed down to three, but it was still very tough for me," she said. "It felt like everything I've done so far was sports and, with my family [making] this possible, I'm so thankful for the opportunity I have."
The most difficult part of this process, however, was the time that Hayes had to sacrifice in order to get to where she is now. Since she is close with her family, the time spent with them, or lack thereof in certain circumstances, was the "hardest" for her.
In addition, she also had to sacrifice time with her friends due to school varsity sports and her club hockey team. However, she is "thankful" for the friendships she has and for the "good and the bad" she endured to be successful.
Despite the uncertainty surrounding her and many other athletes' freshman season, she's hopeful that since she plays a winter sport, it will warrant more time for the coronavirus pandemic to subside, and she's excited to improve as a player for when the season does begin.
"I know that I won't be playing every game as much as a freshman, but I know there is room for me to improve and get better," she said. "I'm most anxious about going to a new place across the country and to be playing against girls who are four years older than me."
Although many people have driven her success, Hayes accredits the most to her father.
"I think the person who has helped mold me into the person and athlete I am today is my dad. He has little sayings that he would always repeat to me that I think have such an important part in my success," she said. "One of the most important ones he has told me is to 'work hard when no one is watching.' It is easy to work hard when people are pushing you and praising you right in front of you. Working hard with no one there to say 'good job' is difficult."

Juan Perkins

Senior Juan Perkins has committed to Azusa Pacific University's Division 2 track and field team.
Perkins, who had originally planned on committing to schools to play soccer, always had the intentions of committing for a sport. Prior to his recruitment process for track, he began receiving offers for soccer from out-of-state schools, however, he always wanted to stay in California. With the help of his track coach Katrina Smith, he connected with Azusa Pacific and eventually committed.
"The moment felt like a dream come true. Receiving the email of acceptance from Azusa for track was one of the best feelings in my life…I owe my success to my mom, my sisters and my track coach. Without them, I wouldn't be in this position right now."
Story continues below advertisement
In the upcoming future, Perkins is most excited to take his athletic and academic career to the "next level" and to work hard and "excel to new heights."

This article was updated on 5/18/20 to include the responses of a source.