'Outer Banks' cast executes show fantastically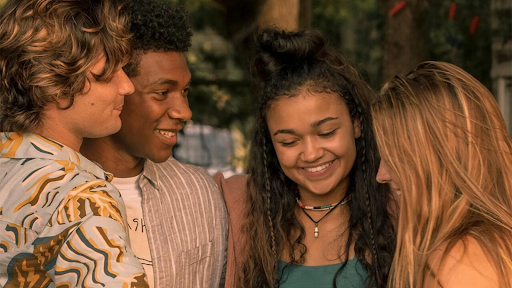 Candice Anvari staff writer
From exhilarating adventure to touching relationships, "Outer Banks" has it all. The show's 10 episodes were fantastic, but not nearly enough. Season two is a necessity after the show left viewers with a huge cliffhanger. 
"Outer Banks" is a Netflix show that follows John B., played by Chase Stokes, and his group of friends who live in Outer Banks, North Carolina. The island is separated by class: the Kooks live on the richer side, while the Pogues live on the poorer side. John B. and his friends encounter multiple obstacles when they begin following the trail to treasure that John B.'s missing father left for him. It broadens into a larger conflict as word spreads on the island that the treasure is near. 
Episode one begins with an effortless dynamic between John B. and his friends. The strong bond between the characters is a main component as to why the show felt so realistic. Although the actors are in their 20s, they looked like they were teenagers and acted like real teenagers; they weren't like the cliche teenagers in most young adult shows. John B.'s dynamic with his love interest Sarah Cameron, played by Madelyn Cline, also added immensely to the show. The dialogue between the two actors was witty and touching, and the actors did a terrific job of pulling at emotions; making them a much loved duo.
The scenery of the show felt like a character itself. Although the series was not filmed at the real Outer Banks in North Carolina, due to the state's anti-LGBTQ laws, the settings found in Charleston, South Carolina, were still beautiful. The ocean, the boats and the parties created a need to live in the Outer Banks. The characters utilized the scenery perfectly, making it seem like a paradise that many teenagers would want to experience for themselves. 
Even the antagonists of the show had an appealing storyline that blended flawlessly with John B.'s ongoing adventure. The main antagonists were unexpected in the beginning, and they added to the thrilling adventure and provided a deeper insight on the disappearance of John B.'s father. 
"Outer Banks" is a must-see show that pulls at emotions in a way that only outstanding acting can execute. Word on season two has not been announced by the cast, but Netflix passed the renewal of the show. 
Highlights gives Outer Banks a 4.5/5.