Lit students see play, workshop with troupe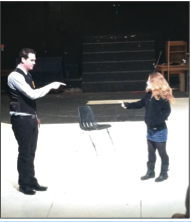 Max Stahl, staff writer
From Nov. print edition
Seniors from Krisha Deaver and Dr. Steven Rubenstein's AP Literature classes attended a performance of "Hamlet" on Monday, Nov. 19, at the Broad Stage in Santa Monica, in order to enrich their understanding of the play.
"[Watching it live] gave me a better understanding of the play," senior Max Eagle said. "Hearing it and watching it be performed gave the play a different sense of stage directions, emotions and character interactions that you can't get from [just] reading it."
The Broad's performance of "Hamlet" set the play in the 1940s. Some students doubted the effectiveness of the anachronistic rendition.
"I like that the play was really fast-paced because it flips your perspective of what a Shakespearean tragedy is supposed to be," senior Cleo Egnal said. "I thought it was interesting that the costumes were from the
'40s, but the meaning was lost because there were no other references to it."


The next day, some seniors in fifth-period AP Literature classes attended a "Hamlet" workshop run by the Los Angeles Theater Ensemble, in partnership with the Broad Stage, at the Salter Family Theater. Two men from the theater ensemble, Drew Shirley and Jonathan Redding, led the students in a guided discussion of the tragedy.
"When you're working with Shakespeare, there is an interesting idea of a big truth that is huge in nature," Shirley said at the beginning of the workshop, "and that's why [Shakespeare's plays] matter 400 years [after they were written]."
The discussion covered a wide breadth of topics: why the audience does not root for Laertes, the depth of Hamlet's character, the phenomenon of revenge, a summary of the play in a minute and the emotion in some of the drama's lines.
Rubenstein plans to continue taking his classes to Shakespeare shows in the future.