Students spread holiday cheer at Albion Street
Dami Kim, social media director
Beverly students spread holiday joy by performing for, celebrating with and giving gifts to Albion Street School students on Friday, Dec. 14. This year marked the 85th anniversary of Beverly's partnership with its sister school in East Los Angeles.
According to next year's Albion Street head commissioner, junior Emily Dekhtyar, Service Learning members spent a month organizing fundraisers and presents.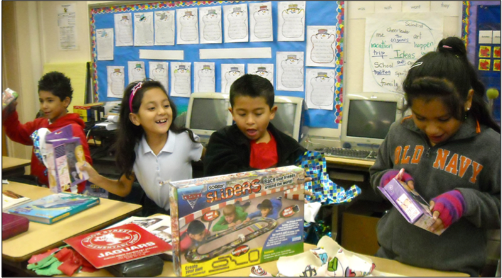 "We personally picked out the presents," Dekhtyar said. "We also did something new this year and visited the school the day before to decorate the campus. I think [decorating the campus] is going to be another added tradition of Albion Street from now on."
Service Learning members, 50 qualifying seniors, Madrigals, band brass quintet members, drumline and varsity cheerleaders performed on the playground of the school before passing out presents. Drumline Captain Elbert Kim was proud to see the improvements in the program this year.
"It's really different every year. Instead of marching through the halls with the cheerleaders like we did two years ago, we lined up on the playground and performed," Kim said. "After [the performance], we let the little kids play on our drums. I was so glad they enjoyed our performances."
Beverly students were then assigned to classrooms to help pass out toys to each Albion Street student. According to Albion Street Head Commissioner Natasha Natarajan, Service Learning raised $5,000 in Beverly classrooms to purchase 310 toys. ASB President Michael Yosef dressed up as Santa and delivered these toys along with senior elves.
"It was a really rewarding feeling knowing that I brightened up these kids' day and holiday time," Yosef said. "Being Santa for the Albion Street kids is definitely one of the highlights of high school so far, and it will be something that I will remember for the rest of my life."
Senior Sharon Attia was grateful for being able to spend the entire day with her second grade Albion Street kids.
"[The second graders] still believed in Santa," Attia said. "I was reminded of how much fun it was to just play. My friend Marisa [Rothman] and I spent the entire day playing and making friendship bracelets with the girls. We didn't want to leave by the time we had to go."
Service Learning Adviser Michelle Halimi emphasized on the importance of giving back and helping less fortunate communities.
"There's so much that our students can do to help those around us," Halimi said. "The Albion kids show Beverly students.

that there is a need for their services. I only hope our students continue to give back in this way when they leave Beverly."
Halimi hopes to expand the program to accommodate the increased participation of students this year.
"We are also considering providing students with a spring trip to Albion with a book drive, so more students can participate." Halimi said. "I love that the students take one day to see and remember the simple things about being a kid. The tradition will definitely continue."
With this year's success, Beverly expects to see greater changes in the Albion Street program.