High school social pressure, stereotypes
Alex Menache, staff writer
Last month a few friends and I exchanged what our first impressions of each other had been. One friend thought that I would not be academic, while the other thought that I would be "one of those typical mean girls." This trivial game proved to have a profound effect on my point of view by not only reminding me of the falsities of assumptions, but also by reassuring my once-vacillating belief that not everyone in high school has to fit into a certain clique.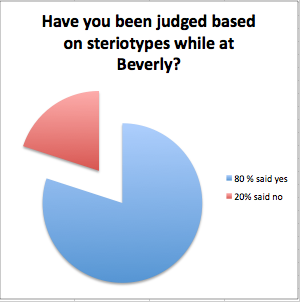 We see this notion everywhere. Movies depict high school students as one-dimensional. If a girl is artistic, she must be stylish and most likely listens to "indie" music. But these classifications are false; the head cheerleader does not always date the quarterback on the football team. These assumptions form a problem with the social structure that composes high school; but do not worry freshman, there is a fortunate trend.
We often enter high school with a clear picture in our mind, an image we have seen projected in all kinds of media. This idea is instantly implemented, but seems to diminish among each class year after year, until senior year, when students feel a striking decrease in social pressures.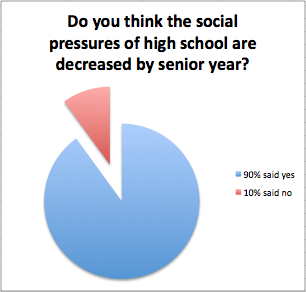 Perhaps it is because classes become more challenging and the focus on the social scene as a freshman transforms into a focus on academics and college as a senior.
Another possible explanation is increasing maturity.
"After my sophomore year, I felt less of a need to 'fit in'. I think it was because I was learning a lot about myself and I no longer felt like I needed to embody anyone else," said senior Tatianna Amatruda.
Even though the social scene at high school has been pre-established, the maturity and sense of self that comes with growing up is powerful enough to steer away from the social pressure that is inflicted on us by the media. In order to do so we must recognizing the danger in assuming others' qualities and tear down the wall that separates students of different interests.