Long-term changes from ACS WASC visit needed
Editorial Staff
While preparing for a visit from the Ac- crediting Commission for Schools, Western Association of Schools and Colleges (ACS WASC) in March, Beverly has
begun to literally clean up its act. From "trying to be more cognizant of surroundings and being neat and tidy," to increasing school spirit and highlighting student work, the high school has made sufficient improvements that may help it to maintain its accreditation, according to an ACS WASC planning committee member.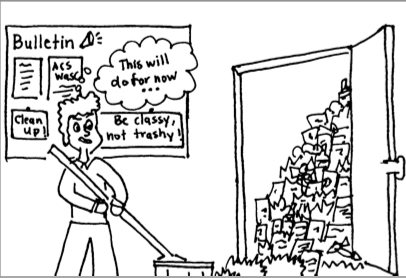 We are glad that ACS WASC exists to encourage schools to follow specific guidelines, promote aca- demic excellence and foster a productive environment, and we consider the measures the school has taken this year to improve as proof that we care about our reputation. Since its founding, Beverly has committed itself to being a beacon of excel- lence, and if its spirit endeavors and trash pickup campaigns help it to "meet [the] in- dicators that impact student learning and well-being, a school's program and supporting operations" that ACS WASC looks for, according to its website, then we applaud its initiatives.
However, we pray that these changes are not just for the week that the ACS WASC committee is here. Beverly and its students should constantly strive to thrive all 180 days of the school year, regardless of the presence or absence of accreditation committees. If trash pickup, classroom displays and clean hallways were expected, not just recommended, every day, then our schoolcould restore its once- golden standing and again be the epitome of secondary education. Students and staff maythink that thebest time to improve is when ACS WASC is coming, but as the axiom states, the best time to be good is when no one is looking.