Athletes ready for off-season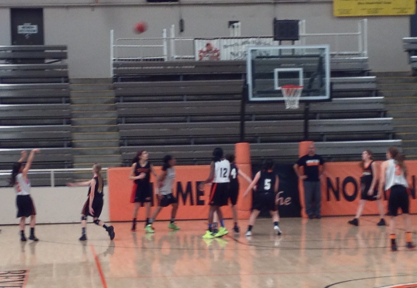 Nathan Daneshrad, cub writer
While in-season athletes are ready to play their sport, off-season athletes are working out and trying to improve their game to become a better play in their upcoming season by running on the track or doing certain stretches to help themselves prepare for the upcoming season. All the athletes that are in the off-season shouldn't be wasting this time that they have to improve themselves by sitting down and waiting till the off-season is over, and realizing that they have to get up and start to get ready for their upcoming season for the sport that they're in.
The track is where hard work is put in by athletes that are conditioning for their upcoming season or wants to prepare themselves for the offseason. Other athletes are in the weight room, lifting weights, doing pull ups, and going on the stationary bike.
"Athletes should be working on specific training for their sport like a football player, they should do strengthening exercising," coach John Braddell said.
As Braddell advises that athletes who are in a certain sport  should either be in the weight room building up their strength, or if they want to gain some speed, they should run  the mile or sprints on the track
"Athletes should be running around and staying in shape," freshman Jonathan Hakimi said.
The reason why athletes should stay in shape is because  athletes think of the off-season as a time where you can just relax and not worry about your sport. As Hakimi said, when you run around, you will stay in shape.
"Off-season is mainly about getting ready for the next season and its challenge that it has for you, especially for me because I play hockey," freshman Guy Petrie said.
People who play certain sports and know that they could possibly make the next team level like JV or varsity, should put more effort into their off-season by doing this shows that they want to be on the team that they belong on.
Braddell says that if athletes ever want a good workout, they should be working out everyday for about one to two hours depending on what sport they are in and what they want to work on.
"Athletes should be working out for at least one hour to two hours a day on whether they lift weights, on the track team, it just really depends on what sport they are on," Braddell said.
"If you want to stay in shape, you shouldn't be eating junk food even though people do because you can get out of shape soon. You want to eat healthy food to build up and be ready for your upcoming season," Braddell said.
Athletes should stay in shape because when they aren't in shape, it can affect how they play. When athletes are in shape, they don't need to worry about getting out of shape before season starts.
"If you're not using it, you're losing it," Braddell said.
Athletes who are unmotivated should get their teammates to workout with them, join a club team, or enroll in conditioning.
If you would like to see the athletes roster and record for any sport, maxpreps has it all.