Robotics prepares for competition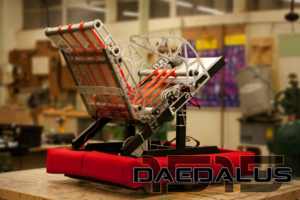 Max Stahl, staff writer
It was Feb. 19, 10 minutes to midnight, and all the drills and hammers and saws had fallen silent in the woodshop. The haggard faces crowded around the finished robot and exulted. Having run some final tests in the EDC, they were finally ready to send their work to competition. The robotics students took some quick photos with the robot, put it in a bag and that was it. A month and a half of stress and sleep deprivation, and that was it.
For the robotics program, Team 1515, Feb. 19 marked the end of build season (the window during which robotics teams could work on their robots in preparation for competition), which had begun on Jan. 5. All that remains is for team members to continue construction on their practice robot and to order and pack all necessary materials. Now, robotics sets its sights on competition, which will take place March 7-9 in San Diego.
"It's difficult to tell right now [how well we'll do in competition]," build team captain Michael Simozar said, "because we don't have much drivers practice, and we still have parts of our robot that need to be changed. I think as of right now our team is going to be average, but we have a good chance to create a higher end robot."
This year's challenge, Ultimate Ascent, was a variation on ultimate frisbee that required teams to build robots that could pick up and throw frisbees, move laterally and climb.
"We wanted to create a fusion of function and form with our robot this year, bringing to life a robot that not only had excellence in performance but excellence in construction and aesthetics. And so, with that, we brought to life Daedalus, which is what we titled the robot this year. Daedalus picks up frisbees from a feeder station. It is able to shoot them into a goal that is 104 inches off the ground. It is also able to climb up a 30-inch-tall bar passively," vice president Mathew Simon said.
This was a year of experimentation for robotics, as the team, for the first time built not one, but two robots. This second robot – a practice robot – gives team members greater opportunity to prepare for competition.
"While we were still able to accomplish our goal, to an extent, of a practice or secondary robot, it did inhibit us in terms of time," Simon said. "We like to try to break [the robot]. It sounds a little awful, but we want to see what the robot's limits are and thus where it needs to be strengthened and improved. We are strong believers in design as an iterative process, which means that once you've determined what's wrong with your design, you improve it, you remake things and you retest them."
To experienced team members like Simon and Simozar, this build season has not been particularly exceptional. Both remarked that after awhile, the years in a sense melt together and become indistinguishable from one another. For first-year robotics students, though, build season was a novel experience that offered unusual challenges and rewards.
"Before build season started, I was expecting to learn a lot and make friends, but my experience was so much more than that," first-time build team member Jasmine Gass said. "I feel much more knowledgeable about mechanics, and this team has made my year."
With build season finally over, only one more obstacle presents itself to the robotics team: competition. Team 1515 will travel with Daedalus to San Diego from March 7-9 and to Long Beach from March 21-23.