Rep. Richard Bloom recognizes outstanding ROP students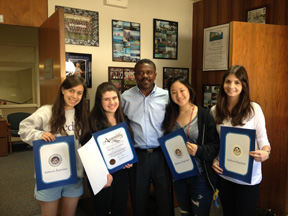 California state assembly member Rep. Richard Bloom recognized the five outstanding ROP students with certificates on Tuesday, April 9.
Upon hearing of the achievements of the girls, Bloom created and sent the personalized certificates to ROP counselor Megen Anspach. Principal Carter Paysinger, along with a small group of faculty, presented the certificates to the students in his office. This was the first time that students who competed at the Los Angeles County Office of Education's ROP competition received this type of recognition.
Seniors Julia Waldow and Eva Zheng, who earned silver medals for Desktop Publishing and Robotics (respectively), and Natalie Gordon, who earned a gold medal in Film and Video Production, will be honored at a banquet at LACOE on May 7 for their achievements.