The Larder offers tasty sandwiches, relaxed aura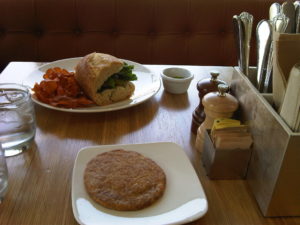 Ben Hannani, staff writer
If you are hungry after shopping at The Beverly Center, ditch the food court and walk a couple blocks over to The Larder at Burton Way. Having just opened on April 22, the Larder has become local foodies' new hotspot for breakfast, lunch and dinner. The clean restaurant's sleek modern design and mini-market selection are reminiscent of Joan's on Third, although The Larder is more tranquil.
        Despite being a hip new destination on foodies' radars, the restaurant was rather mellow on Sunday afternoon. The menu includes soups and salads, burgers, and signature sandwiches. Particularly appetizing was The Marcia, a sandwich consisting of chicken breast, pesto, avocado and fresh arugula that tastes as though it had just been hand-picked from a farm. As with all The Larder's sandwiches, The Marcia is served with pickles and sweet potato chips.
        The Larder also has a diverse array of delectable pastries, including cookies, croissants, and muffins. For dessert, I munched on a delicious, chewy snickerdoodle that would taste very good along with any one of the restaurant's coffees or teas. Even if you are not hungry enough for a meal, The Larder has plenty of options to satisfy a sweet tooth.
        In addition to tasty food, the restaurant also has prompt service. Orders are delivered in a matter of minutes and waiters are quick to refill water.
        Prices are fairly standard for a trendy restaurant of The Larder's caliber. Pastries fare between $2 to $4 dollars, breakfast and lunch items generally between $10-$15, and main courses for dinner are similarly priced, if not a few dollars more. Fortunately, I found my order to be a satisfying portion – not too little to leave one wanting more and not too much to make one feel bloated.
       The Larder's casual, comfortable ambience makes for a refreshing dining experience. While I chose to sit inside, I admire how the restaurant has created pleasant outdoor seating amidst an otherwise busy intersection. Overall, the Larder is a uniquely charming restaurant and an ideal place to grab lunch with a friend or two.