Junior starts charity organization to aid Africans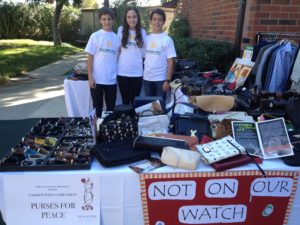 Junior Maya Steinberg carries a large collection of handbags in her room: some are brand new and designer brands, some are wrinkly from age, some are worth thousands of dollars. Like many girls her age, she has an interest in fashion. Unlike many other girls, however, she uses this passion to aid people in dire need of support. The purses that crowd her room are all donated, and after selling them through her organization Purses for Peace, Steinberg donates the money to the Solar Cooker Project of Jewish World Watch. The project protects refugee women from rape, murder and other types of violence. Steinberg began the charity when she was 12, and since then, she has raised over $10,300.
"At my temple it is encouraged for students to give back to the community before they have their bar or bat mitzvah. My mom also really encouraged me, reminding me that we're really fortunate and we should give back," Steinberg said.
In addition to receiving help from her family, Steinberg was aided by her temple Stephen S. Wise and the Jewish World Watch, a non-profit organization that provides aid mainly to those in Sudan, Darfur and the Congo. Both organizations helped Steinberg collect handbags and allowed her to sell the items at their events.
"At the beginning I started by sending out letters to my friends and family, telling them about Purses for Peace and asking for donations. Purses are donated to a group at my temple and the Jewish World Watch,
and that's either picked up by or delivered to me. I then take the purses home and price them with my mom," Steinberg said.
The most recent event Steinberg attended was on May 5 at the Jewish World Watch Walk to End Genocide, where Steinberg raised over $1,000.
Through the establishment of her charity, Steinberg realized that large benefits can come from a simple helping hand.
"If you're fortunate enough to give back, do all that you can, because every effort you make really helps people that are in desperate need of it. I just get a really rewarding feeling after I have a sale and count up all the money I earn," Steinberg said.
Although most of the time the experiences that come with leading a charity may be satisfying, Steinberg must keep in mind the responsibilities that also come her way.
"The biggest challenge I have is having up-to-date merchandise. The types of purses sold often depends on the location. At the walk I attended, for example, they really liked the designer bags, but if I didn't have them it would have been an issue," Steinberg said.
Steinberg was nominated for the Diller Teen Tikkun Olam Award in both 2011 and 2012. Although she did not win the former year, she will hear back from the organization soon about this year's nomination. The prize is $36,000, which can be used toward college tuition or as a donation to the organization. Steinberg claims that if she wins she will do the latter.
The Solar Cooker project provides women in refugee camps in Sudan and Darfur a safer alternative method of cooking food. Instead of having to venture out to unknown areas where they risk getting raped or killed to get firewood, women can use solar cookers for cooking inside the refugee camps. Each solar cooker costs $20, and so far Steinberg has raised enough money to pay for 500 of them.