Concerts for Care plays, raises $11,000 for Crohn's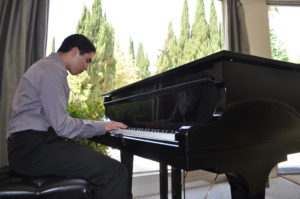 Concerts for Care, a charity organization, created by junior Alex Massachi and his piano teacher Shilla Hekmat, held its second annual piano concert on Sunday, May 19. The charity raised $11,000 and donated all proceeds to Crohn's and Colitis Foundation of America in order to fund its research for finding the cure to Crohn's and Colitis diseases.
Located at Hekmat's home on North Rexford of Beverly Hills, the piano recital opened its curtains at 11 a.m. sharp and hosted a total of 35 performances throughout the afternoon. According to Massachi, over 150 participants who stepped through the doors, were required to donate a minimum of $15 to the charity. Raffles gift cars, gift baskets and jewelry were also included during the concert.
Once refreshments were served, the recital began with a piano piece called "Someone To Watch Over Me," played by 13-year-old Lowell Dylan, the inspiration for Massachi's charity. According to Massachi, Dylan, one of Hekmat's piano students, had been diagnosed with Crohn's disease from a very early age.


"I wanted to help relieve [his] pain by sharing the only thing we had in common together, which was playing the piano," Massachi said. "I am so glad that the recitals can help not only [Dylan] but also [those] who are suffering from the same disease."
Sophomore Amir Kashfi, who performed Queen's "Bohemian Rhapsody," has been playing piano with Hekmat since he was 6 years old. Kashfi decided to partake in the event for the second time due to his passion for music and his desire to spread awareness of an important cause.
"The event went well because kids were exposed to music and it also benefitted a great cause," Kashfi said. "[Crohn's disease] is a disease that not a lot of people know about, let alone that there is even a foundation trying to cure the disease."
Ten-year-old Matthew Paul stressed the importance of the event before playing a medley from the "Phantom of the Opera." Paul stressed that the concert is a "fun" way to not only help raise awareness, but also save lives.
"The recital is helping to find a cure for a disease that can be curable if we raise money," Paul said. "I participated in the event last year, and I am planning to participate next year as well in this good cause."


Awards and trophies were given out to performers at the end of the event, and Massachi and Dylan's mother gave speeches about the disease and its effects on children. Massachi thanked the participants for the "great success" of the fundraiser: this year's concert raised $11,000, $1,000 more than last year's total.
Hekmat was proud to have her students learn the importance of charity through what they enjoy the most: music.
"I hope this event inspires more students for next year," Hekmat said. "All students have learned the importance of supporting what they believe in through this charity."
According to Hekmat, the charity board plans to sell tickets in advance and host the concerts at Beverly Hills High School or other community centers for next year. With two consecutive successes in raising research funds for Crohn's and Colitis diseases, the charity board plans to host the third recital in June and hopes to continue hosting in the following years to come.