Social networking results in antisocial behavior
Michelle Banayan, social media director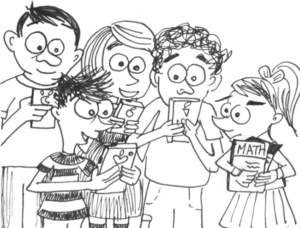 The bell rings, signaling the end of fourth period. A student exits her classroom, binder in one hand and smart phone in the other, and walks to her next class while simultaneously checking the latest social media updates. Not only does this situation become an inconvenience to others, as they have to find ways to get around the student on her phone who is going up the stairs as slow as humanly possible, but it is a problem for the phone user as well.
According to Common Sense Media, a non-profit organization dedicated to informing children and their families how to properly utilize the media, half of today's teenagers visit social-networking sites daily, and of that half, more than a third visit a social-networking site multiple times a day. Furthermore, if one is active on two or more social-networking sites, she or he is dubbed a "heavy social media user."
It is a normal impulse to want to be in the know on all that is happening by checking updates, but so often, people are scrolling through their Facebook or Instagram feed not because there are new posts, but just out of pure habit. They aren't visiting their social media sites to see updates, as they know that there are likely none. They are visiting the sites because they have been accustomed to a society that tends to "antisocialize" in order to be social.
Instead of having face-to-face conversations with their classmates, too many students sit at their desks waiting for the bell to ring while looking through their Twitter feeds. After all, social media is the way to be social nowadays. Are there any new updates from when they last checked 50 minutes ago? Maybe only one or two, but that doesn't stop them from checking. These students feel that they are in the loop by constantly checking, but they are really just isolating themselves from their peers as they stare blankly at an LED screen.
As a "heavy social media user," I have noticed my attachment to social networking grow throughout the years – from when I first had my Internet-less, hot-pink Motorola Razr in sixth grade until now, when I have an iPhone stocked with all the latest applications that tell me what is going on all around the world instantaneously. I have also noticed the amount of times I spend checking my phone steadily increasing, consuming time that I can spend interacting with others or doing work.
Through these realizations, I learned that perhaps we teens need to quit updating our online profiles and start updating our actual lives (which don't involve "like" or "follow" buttons). Instead of being an expert at martial arts through Fruit Ninja or a master of decoding the meaning behind photographs in 4 Pics 1 Word, we should get out and explore all the non-digital world has to offer. Because by keeping our heads down and focusing on a screen, as opposed to watching what is actually happening around us, we are risking the possibility of missing out on experiences and opportunities that cannot be found online.