Defne Onal managing editor
Students in Beginning and Advanced Photography mainly shoot and develop black and white film. While they may have projects on digital photography at the end of the year, the entire curriculum of the photography classes is structured around black and white film and darkroom photography.
In Beginning Photography, photography teacher Timothy Briggs slowly introduces film photography to his students. In the course, students strictly use black and white 35mm film and learn to navigate through the dark room. In Advanced Photography, Briggs continues to teach with black and white film, but he also incorporates more complex concepts in assignments and lessons.
"Black and white film is important because it's a good foundation for anything else you do in photography, whether it be cell phone photography, which everybody does, or digital photography, which is much easier and higher quality," Briggs said.
Story continues below advertisement
Since color photography is eliminated from the equation, students have to create a heightened feel for other factors, such as form, composition, tone, contrast, light and shadow.
"I think [that] starting off with black and white photography is super helpful when it comes to learning photographic concepts as a beginner. For example, learning to use light and shadow to your advantage is a lot easier when working in black and white because the contrast between the two is emphasized," junior Keren Lifshitz, an Advanced Photography student, said.
However, according to senior Manuela Torres taking Beginning photography, it's common for students to make mistakes the first time around developing their pictures.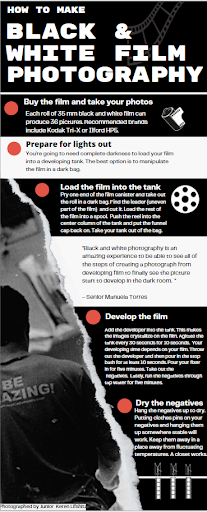 "The first time I developed my film, [it] did not go well because there was an error loading the film into my camera. I had to restart. So, it's very important to follow the steps to make sure everything's right," Torres said.
Briggs agrees with Torres that following the procedures is "super important" to ensure the film develops correctly.
"I've been preaching it all day: it all starts with a great negative. If you don't have a great negative, nothing else matters, none of it. Nothing else applies," Briggs said.
To draw inspiration for shooting the film, students also have to write photo journals by critiquing pictures from Black & White Magazine.
"Photo journals are a very good opportunity for students to be exposed to the work of professional photographers and develop our ability to critique and analyze art," Beginning Photography student senior Joseph Finazzo said.
According to Lifshitz, another facet of why developing black and white film is vital is that it is "just super cool."
"Developing film and being in a dark room is such an amazing experience which is important to have when learning about photography," Lifshitz said.